Offered by GAME
The undisputed king of basketball games returns for another year with NBA 2K22, which this afternoon has left us multiple details of its playable, visual and content improvements. The game will be released on September 10 on PS5, Xbox Series X / S, PC, Nintendo Switch, PS4 and Xbox One, and only in GAME you will be able to take a DLC with bonus content for free, both with the purchase of your standard edition and the spectacular 75th anniversary special edition, which you can now reserve.
Pre-order at GAME to get this exclusive DLC
These will be the contents of the Exclusive DLC the GAME:
Additional 2000 CV
1 x Free Agent Letter from Kareem Abdul-Jabbar to MyTEAM, average 95
1x MyTEAM promo pack
And these are the contents of the 75th anniversary special edition:
Play NBA 2K22
Special metallic box of the game, exclusive to this edition.
100,000 VC (Virtual Currency) + 10,000 MT (MyTEAM Points) + 10 MyTEAM Tokens.
10 power-ups of each My Career skill type + 10 Gatorade power-ups of each type.
22 MyTEAM Promo Packs (10 at launch, then 3 a week for 4 weeks).
3 Sapphire cards from MyTEAM (Dirk Nowitzki, Kareem Abdul-Jabbar and Kevin Durant).
Jordan Diamond Shoes and Trainer Letter Pack for MyTEAM.
My Player Clothing and Accessories Collection (2 Luka Doncic t-shirts, 2 75th Anniversary cover players t-shirts, backpack, arm warmer and personalized skateboard.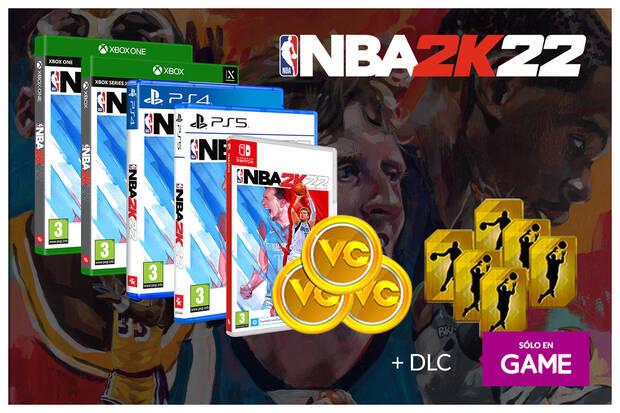 So you already know! Pre-order NBA 2K22 and get an exclusive GAME DLC with additional content, as a gift with any of its editions, on sale next September 10!