Xbox Cloud Gaming, the cloud game included in Xbox Game Pass Ultimate, is now available on all devices: on Android they have been released a few months ago, and their official arrival to iOS and PC It was preceded by a limited beta that was only accessible by invitation. Now, any Spanish subscriber can already play in the cloud from any device without the need for any kind of invitation, although there are some compatibility details to take into account.
In this article we tell you everything you need to know to run Xbox Game Pass Ultimate games on streaming via Xbox Cloud Gaming both on iOS, including iPhone and iPad, and on Windows 10 PCs, both via browser. It should be remembered that this service still in beta version, which means that you can experience crashes while playing in the cloud; the company is collecting feedback users to solve all reported technical problems as soon as possible.
How to play Xbox Cloud Gaming on iOS devices (iPhone and iPad)
Dispositivos iOS compatibles con Xbox Cloud Gaming
Before we begin, it should be noted that since it is a beta version, Xbox Cloud Gaming is still not compatible with all iOS devices. It should work fine on everyone who already has version 14.4 or higher, but on unverified devices it may have mixed performance. Here is an up-to-date list of verified iOS devices for Xbox Cloud Gaming use:
iPhone: iPhone XR, iPhone XS, iPhone 11, iPhone 11 Pro, iPhone 12 Mini, iPhone 12, iPhone 12 Pro, iPhone 12 Pro Max
iPad: iPad Air (3rd Gen), iPad Air (4th Gen), iPad Pro 11 2nd Gen, iPad Mini 5th Gen, iPad 8th Gen
Still, even if your device is not on that list, it may still be able to run Xbox Cloud Gaming. The company will add new models as it verifies them with the help of the community. If you have an Xbox Game Pass Ultimate subscription you can try it on your iPhone or iPad to check its current performance.
Cmo instalar Xbox Cloud Gaming en iPhone y iPad
The first thing you should know is that Xbox has not launched an application Xbox Game Pass compatible with cloud play in the App Store, as Apple does not accept these types of services in its mobile application store. To overcome this limitation, the company has taken its service to browser so it can be run directly from Safari, without the need to download anything. If you have the Xbox Game Pass app installed on your iPhone or iPad, you can continue managing your account from there, but to play games in the cloud you will have to do it from the browser.
The Xbox Game Pass app available on the App Store does not give access to the game in the cloud; Xbox Cloud Gaming can only be accessed via browser
The only compatible browser, at the moment, with Xbox Cloud Gaming is Safari, which is installed as standard in iOS mobile devices. Even if you usually use another, such as Google Chrome or Mozilla Firefox, they will not work for you to play in the cloud (they do not have guaranteed compatibility and the experience may not be optimal). The positive part is that you will practically not have to open Safari to play in streaming with Xbox Game Pass Ultimate, since you can create a shortcut to the home screen from your iPhone or iPad and that shortcut automatically 'turns' into an app. You will practically not notice any difference from a normal app. These are the steps to follow:
Open Safari and go to xbox.com/play
Sign in with your Xbox Game Pass Ultimate account with an active subscription
Press the 'Share' button that you will see in the bottom bar of the screen
In the menu that appears select 'Add to home screen'
Choose a name for the shortcut and click on 'Add'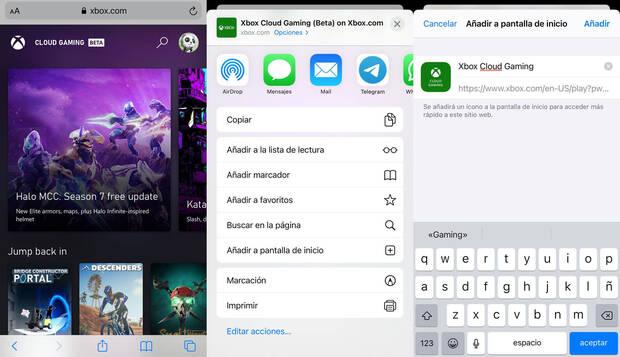 Once this simple process is finished, you will see that the Xbox Cloud Gaming icon has been added to your home screen as if it were just another application and that, in fact, when you open it, it does not even go through opening Safari before, giving rise to an experience quite fluid and similar to an application to use. From now on, every time you want to play in the cloud you will only have to access that app.
Xbox Cloud Gaming Compatible Controllers and Possible Network Issues
Now that you have the Xbox Cloud Gaming 'app' installed, the simple part comes: play. However, there are also several details that you should know about. For example, that this cloud gaming service allows you to use any controller or peripheral compatible with iOS, not like others (such as Stadia or the PlayStation remote game) that only allow you to play with their respective official controllers. In fact, the Xbox Game Pass Ultimate cloud game includes a selection of games with custom touch controls designed specifically for each title, allowing anyone to play without the need for peripherals.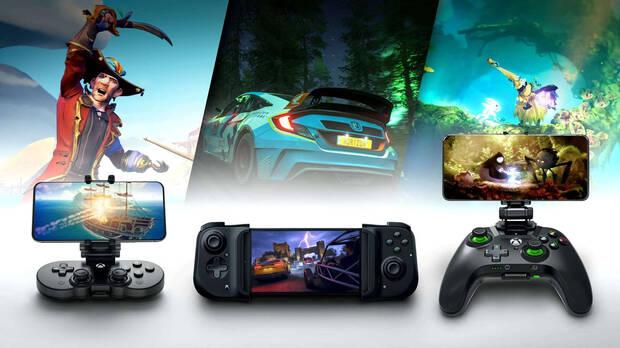 Another detail to take into account is that the performance of the streaming vary remarkably depending on the network you use: if you are going to play with WiFi and your router has 5GHz band, we highly recommend that you connect to it because you will notice a much more fluid experience. If you intend to play with data, remember that you may notice cuts in the game depending on the coverage of your device. Either way, Xbox Cloud Gaming will warn you on the screen if your connection is poor. What has been confirmed is that at the very least you will need a 10 Mbps bandwidth for playing on iPhone and 20 Mbps for playing on iPad. Even so, even exceeding the recommended bandwidths by far, it is possible that you still have cuts in the games as it is a service in beta phase. Solutions to possible network problems can be found on the official Xbox support page.
Cmo jugar a Xbox Cloud Gaming en Windows 10 (PC y Surface)
As with iOS devices, in Windows 10 there is still no native application for Xbox Cloud Gaming and the only way to access its beta is through the browser. In this case, the compatible and recommended ones are both Microsoft Edge and Google Chrome in their version 87.0 or higher. To access this service you just have to go to xbox.com/play, log in with our Xbox account subscribed to Game Pass Ultimate and start playing.
To access, in addition to the aforementioned active subscription, it is only necessary to have a device with compatible Windows 10 updated, at least, to the autumn version of 2020. It is recommended to have a connection of at least 20 Mbps, either by WiFi or by cable. As for Surface, the verified devices are as follows:
Surface: Surface Go 2, Surface Pro 6, Surface Pro X, Surface Pro 7+, Surface Laptop, Surface Laptop 3, Surface Book 2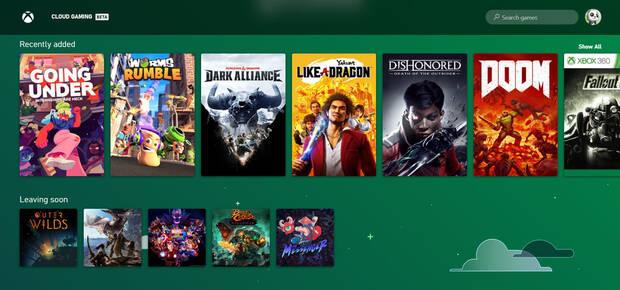 Here, again it is recommended to use an official Xbox controller, but any other peripheral compatible with our PC is valid. Yes, if we play on the computer we will not be able to use keyboard and mouse in those games designed for it: the titles included in Xbox Cloud Gaming run on the console, specifically on Xbox Series X, so there are no PC games on this platform. If we play on a Surface or a touch screen, the touch controls available in certain selected games can be used in Windows 10.