Nothing less than three ministers have participated -with video recording- in the presentation this morning online of the Video Game White Paper 2020, a report with which the Spanish Association of Companies Producing and Developing Videogames and Entertainment Software (DEV) has carried out an X-ray of the creation of videogames in Spain and that on this occasion it reveals that in 2019 the turnover and employment of the Spanish video game production grew.
Top political priority on the agenda
This government support is explained by the importance that video games have acquired in the economic recovery of the country. As explained by the Second Vice President and Minister of Economic Affairs and Digital Transformation, Nadia Calvio, videogames now have "a agenda of the highest political priority, economic and financial resources and favorable conditions " as an important part of plan "Spain, Audiovisual Hub of Europe" that was presented two weeks ago and that aims to increase audiovisual production in Spain by 30% by 2025 with financing from more than 1,600 million euros of public investment from the General State Budgets and various European funds. It is not yet known what percentage of this amount will go to video games, but Antonio Fernndez, secretary of DEV, affirmed that before the summer the budgetary allocation and what type of projects can be submitted to this plan will be known.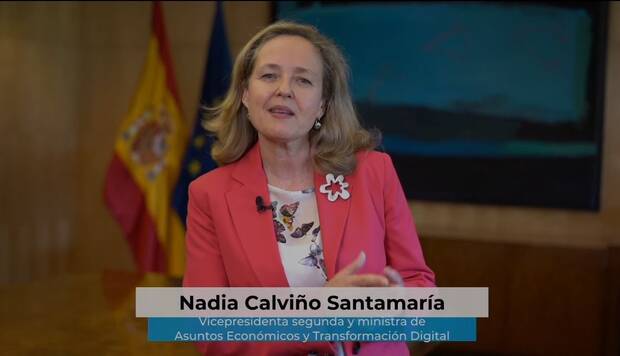 The Minister of Industry, Commerce and Tourism, Reyes Maroto, that on other occasions has already shown its support for the Spanish video game, affirmed that 2021 is the year in which "begin to position Spain as one of the world leaders in video game creation" and the Minister of Culture and Sports, Jos Manuel Rodrguez Uribes, point to a new help line, which his ministry is going to convene this year for the first time, to respond "to some of the challenges facing the sector, such reduce business polarization or address the gender gap ", He said.
In addition to all these aids, there is currently in Congress several projects in parliamentary process, one of them the Statute of the Artist, which includes video game creators, according to Fernández.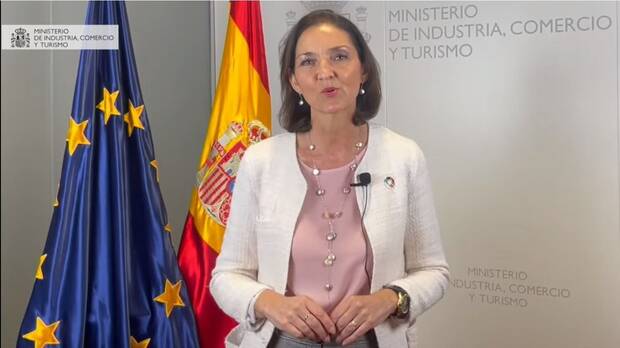 DEV considers that tax incentives are key
Communication expert Lara Rodríguez presented an event opened by Mara Pea, CEO of Icex, who described how the brand has been maintained Made in Spain in different events held online and that has offices in 100 countries which have been key to keeping markets open despite the closure of borders since March 2020.
The president of DEV, Valeria Castro, highlighted the role of videogames in a year marked by the pain, uncertainty and social isolation and pointed out that a structural change is necessary to "consolidate and accelerate the growth trend that we have had in recent years." Castro decidedly opted for the measures proposed in the White Paper to "improve the quality of current jobs, create jobs to absorb all the young Spanish talent, invest in diversity and accessibility and promote teleworking and activity in the entire national territory ".
DEV usually includes every year in the book a series of measures that it considers important to promote the creation of Spanish videogames. This year this list has been reduced to three measures that the Spanish producers' association considers essential for this powerful impulse to local development. First, a tax incentive for video game production. Emmanuele Carisi, Technical Secretary of DEV, He stated that in Spain the turnover per company is lower than in other European countries such as France, Germany or the Nordic countries and that this is due to the size of the studies; these need to grow, Carisi said, until be medium or large in size "And for that, some accompanying measures are needed that include aid and tax incentives so that from its birth a video game company is clear about the path by which it can grow and finance itself. The bet of private money will come if we become competitive as a country by establishing tax incentives that they place us on the world map of investment in the same way that it has placed Spanish audiovisuals and, especially, animation and visual effects ".
DEV proposals for the plan "Spain, Audiovisual Hub of Europe
Second, DEV proposes that four measures be included within the "Spain, Audiovisual Hub of Europe" plan: the creation of a network of incubators and accelerators managed by industry professionals (Following the example of models such as Polo de Contenidos Digitales in Malaga or GameBCN in Barcelona), aid to promote new developments large and small studios, fostering the creation of a powerful network of publishers in Spain and the promotion of projects to develop serious games. The third measure proposed by the White Paper is the incorporation of new professionals through curricular practices, bonuses in Social Security contributions for new jobs and freelancers who have productive downtime and promoting the hiring women and their professional growth under equal conditions. This last point is relevant since it is one of the objectives of the government's 2025 agenda and the Recovery Plan. In Spain, the number of women in 2019 accounted for 18.5% of the sector's workers.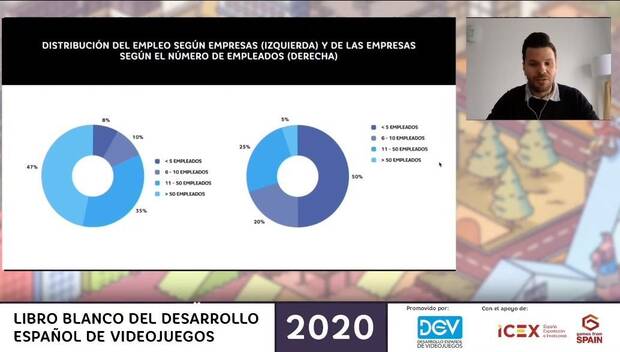 A turnover in 2019 of 920 million euros
The 2020 Video Game White Paper shows that the national sector was advancing before the pandemic, with a turnover in 2019 of 920 million euros, 13% more than the previous year, and also I was creating more work with an increase in the workforce of 6.1%, so that it reached 2020 with 7,320 workers, 70% of whom have a higher degree and are mostly young (94% are between 18 and 45 years old and 48% are less than 30 years old).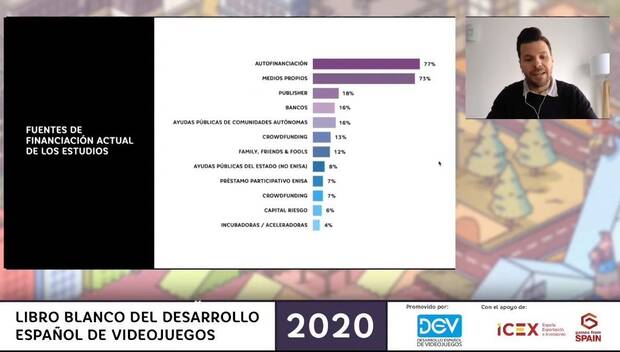 Of the 655 active studios, 415 are constituted as a company or other legal form. five less than the previous year, and only 22% of them are more than ten years old. Half of those companies have fewer than five employees and those with more than 50 represent only 5% of the national industry, although they are the ones that employ the most people. Studies are concentrated in few communities, especially Catalonia (27.3%), Madrid (24.4%), Andalusia (13.7%) and Valencian Community (10.4%)
Small, newly created developers still prevail
All these data now seem to have been obsolete after the shock of the entire planet caused by the outbreak of the pandemic in March 2020, but data from a survey conducted by DEV indicates that Covid-19 has not been a serious detriment to Spanish studies Thus, the White Paper continues to fulfill its mission of revealing how the Spanish video game industry is evolving, which at the end of 2019 largely followed the trend of recent years: a majority of small and recently created developers integrated by professionals who have mostly university training.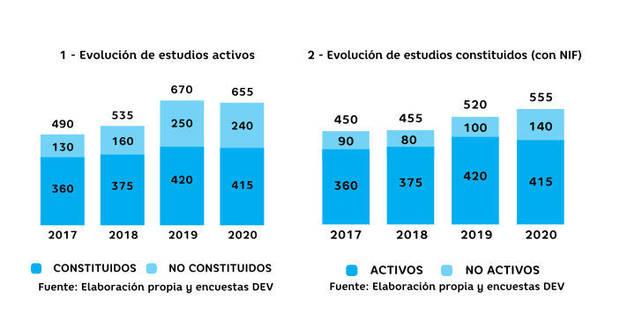 Most of the income from Spanish videogames comes from international markets and, above all, through online sales; 67% of the games belong to the free model with in-game purchases, advertising or subscription and physical video games are only 4% of the billing. From DEV they note that the most important market, that of the region Asia-Pacific accounts for only 23% of turnover, so it is important for local studios to strengthen their presence in that area.