New video game releases in the week ending April 3 are dominated by Square Enix. The Japanese firm has released two titles: Outriders, the shooter cooperative with RPG elements of People Can Fly; and Balan Wonderworld, the three-dimensional platformer of Yuji Naka, the creator of Sonic. The first arrives appearing in the sixth position of the best-selling games in physical format while the second does not manage to enter the top 40, according to data from GamesIndustry.
Outriders has sold the most on PlayStation consoles. The version of PS5 accounts for 52% of total sales while that of PS4 (there is free update from one edition to the other) accounts for 31% of the units placed in the hands of consumers. The version of Xbox Series X and Xbox One has sold 17% of the total. Two things must be taken into account: first, that the game est en Xbox Game Pass for console since its premiere; and second, that usually the sales of games with an online component have a higher percentage of digital sales (not represented here) than in other genres.
Balan Wonderworld, the 3D platformer from ARZEST Corp. distributed by Square Enix on PS5, PS4, Xbox Series X / S, Xbox One, Nintendo Switch and PC does not enter the list of the 40 best-selling games. Critics have called him a mediocre game; its Metacritic on the platform where it has been most analyzed (PS5) it is 51 out of 100 at the time of writing these lines.
They argue from GamesIndustry that the Easter holidays and offerss in some titles have increased the sales of games with several months behind them. The most prominent case is that of FIFA 21, which occupies the first position from the podium with 81% more units sold compared to last week. Several nintendo switch games have benefited from the same: Animal Crossing: New Horizons (in position 2 with an increase of 11%), Super Mario 3D World + Bowser's Fury (increases by 16%), Mario Kart 8 Deluxe (in fifth place with a 20% increase) and Ring Fit Adventure (7th place with an increase of 127% thanks to a new advertising campaign).
Monster Hunter Rise, which are released the week before in the first place, drop to fourth position with 74% less sales. Super Mario 3D All-Stars, which stopped being sold in the Switch digital store on March 31 and that not redistribute once the remaining physical copies in stores are used up, it ranks number eight with 56% fewer sales compared to last week.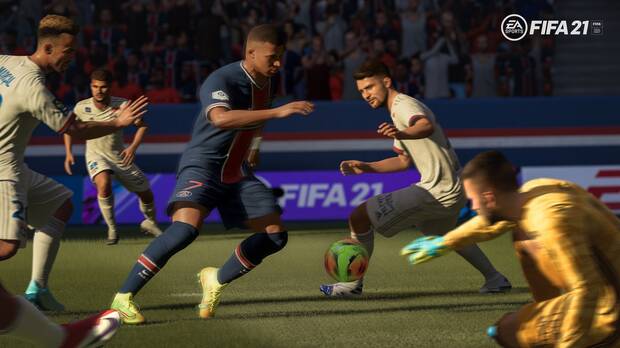 The 10 best-selling games of the week in the UK
Below we list the 10 best-selling titles for the week from March 28 to April 3 in the United Kingdom according to data from the consulting firm GfK. In parentheses, last week's position.
1. (8) FIFA 21
2. (3) Animal Crossing: New Horizons
3. (4) Super Mario 3D World + Bowser's Fury
4. (1) Monster Hunter Rise
5. (7) Mario Kart 8: Deluxe
6. (-) Outriders
7. (16) Ring Fit Adventure
8. (2) Super Mario 3D All-Stars
9. (14) Assassin's Creed Valhalla
10. (6) Minecraft: Nintendo Switch Edition