Every month Valve publish one survey of hardware and software of Steam very interesting since it allows us to know which is the average computer of the PC players who use this platform (which are a large part of them) and discover the trends in the "Master Race".
In this month's survey we have a couple of fairly significant data and other trends that are maintained over time such as that of AMD cutting little by little, tenth by tenth, presence Intel with its Ryzen processors. Currently 28.66% of Steam players have a processor of the brand that Lisa Su runs while Intel continues to maintain its advantage but has seen how in a year and a half it has gone from having an 80% market share to 71.34% that continues to decrease little by little each month.
If we go to graphics cards There is little movement here due to the current difficulty that players have to get hold of a GPU and the values ​​move a few tenths leaving NVIDIA with 74.83% usage share his most popular graph being the GTX 1060 although here we see how little by little the use of new models such as the GTX 1650 or the RTX 2060 is growing, which has risen 1.29% compared to the previous month. AMD for its part, it has a usage fee of one 16,28 % with the Radeon RX 580 y RX 570 being his most popular graphics and Intel is kept in a 8,76 % with its integrated charts of which the most popular is the UHD Graphics 620.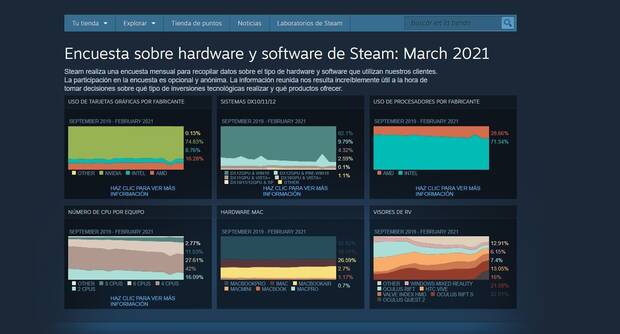 Moving on to RAM here we find one of the most significant data that is a 1.28% increase in the presence of computers with 16 GB of RAM that already represent 45.12% of those used on Steam. The 8 GB continues to fall and now only represents 27.04% of the computers and the configurations with more than 16 GB of RAM have grown by 0.97% to represent 11.77% of the computers that use Steam.
Virtual reality continues to grow thanks to Oculus Quest 2
The other most significant piece of data from last March's survey is the growth of computers with virtual reality headsets that use Steam, which represent 2.4% of players growing in the last month by 0.27% thanks to Oculus Quest 2 that continues to increase its presence month by month and that in March its use on Steam has grown by 5.52% to already have 22.91% of virtual reality players beating much more veteran devices such as Oculus Rift S, Valve Index or HTC Vive.
If you want, you can read the entire survey by clicking here.