At the beginning of each month we always bring you (either here or at Vandal Ware) the Average PC used by Steam gamers to enjoy your favorite titles on PC, giving us a fairly accurate look due to the large number of computer gamers who use Valve's digital platform.
This month's survey shows the difficulties of the players when buying graphics cards which is causing that in many cases they also decide to wait to renew their entire computer due to the increase in the price of many components due to the chip shortage crisis that affects Spain and the rest of the planet.
Starting as always with the processors the main news is that those of AMD are already used by 30% of computers, just 0.5% more than last month but which reaches a figure that has been unknown for a long time by the company run by Lisa Su and that since it launched the first models of its Ryzen CPUs has been slowly eating land to Intel.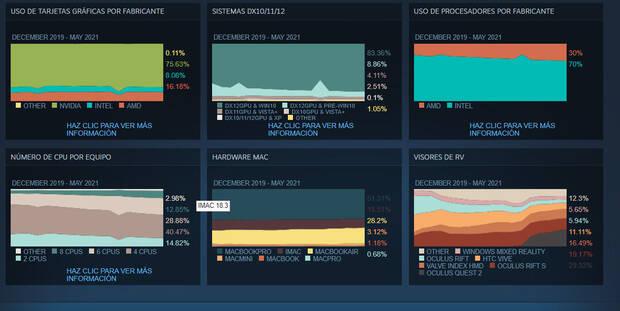 If we go to graphics there is not a single change in the usage quota with 75.63% of the GPU being from NVIDIA, 16.18% from AMD and 8.08% from Intel. In the models used, there are slight variations that may be typical of the surveyed players, although even so the NVIDIA GeForce GTX 1060 It is still the most popular and it is increasingly common to see some model of the RTX range, either the 20 Series or the 30 Series. At AMD the most used is the Radeon RX 580 and in Intel the UHD Graphics 620.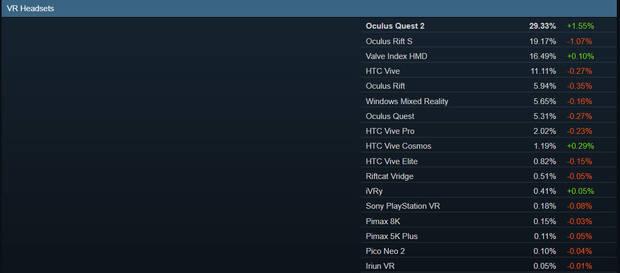 Computers with more than 16GB of RAM and sales of Oculus Quest 2 grow
Other interesting data can be seen in the RAM tendency to grow in quantity among the players. Something that repeats month after month. The majority (45.11%) bet on 16 GB of RAM while we have been seeing for months how computers with more than 16 GB are already 12.52% of the players.
As far as virtual reality is concerned Oculus Quest 2 helmets continue to lead the market growing by 1.55% compared to last month and reaching 29.33% of use of all those who use a device of this type on a computer.