We have been talking for months about the possible launch of a new model of Nintendo Switch, something that always excites lovers of consoles that we want to enjoy again hardware or improved editions of our favorite consoles. In fact, we even exclusively advance you some details of what until now was known as the Switch Pro such as the size of its screen or the new LAN port.
A few minutes ago and by surprise, as Nintendo usually does, the Japanese company announced Nintendo Switch Model OLED, a review of your hybrid console with some modifications that seem to affect your screen, the sound system and a new support so that we can enjoy Nintendo games better than ever anywhere, among other things.
Release date and price
Nintendo Switch OLED to reach Spain and the rest of the world on October 8, 2021 yet price 349.99.
Caractersticas de Nintendo Switch OLED
Nintendo Switch OLLED include a series of modifications that mainly affect its screen, sound system and memory. These are your main characteristics and differences with respect to the original Nintendo Switch:
7-inch OLED screen.
New adjustable width bracket.
New base with LAN cable internet port.
64 GB of internal storage.
Integrated speakers with enhanced sound.
The new OLED panel will be the jewel in the crown
The jewel in the crown of the new model is the new panel 7 inch OLED, somewhat larger than that of the traditional 6.2-inch model (and the 5.5 of the Lite model) to offer us a better image quality especially in terms of color, although the resolution will be exactly the same as that of the LCD panels, that is, 1280 x 720 pixels.
Another obvious change related to the new screen is that the frames are obviously narrower than those of the original model, although the dimensions with the Joy-Con attached are almost identical with a size of 102 mm x 242 mm x 13,9 mm in the case of the OLED model and 102 mm x 239 mm x 13.9 mm in the original version of Switch.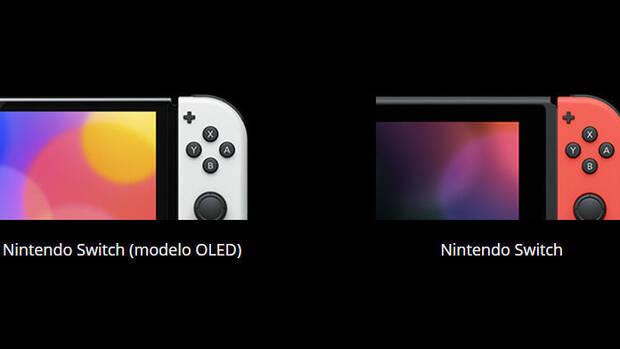 This OLED screen, unlike the LCDs of the other models, lacks backlighting so it displays the images using the light emitted by each pixel individually, which allows, above all, deliver better blacks and higher contrast which can be noticed both playing indoors and outdoors.
LAN cable in the base and a new bracket
Another obvious improvement of the OLED Model Switch is in your base that now has a new LAN port pro cable that allows us to enjoy a higher download speed and a more stable game over the internet. In addition, the base continues to have two USB ports, the charging one and an HDMI to connect the console to our television.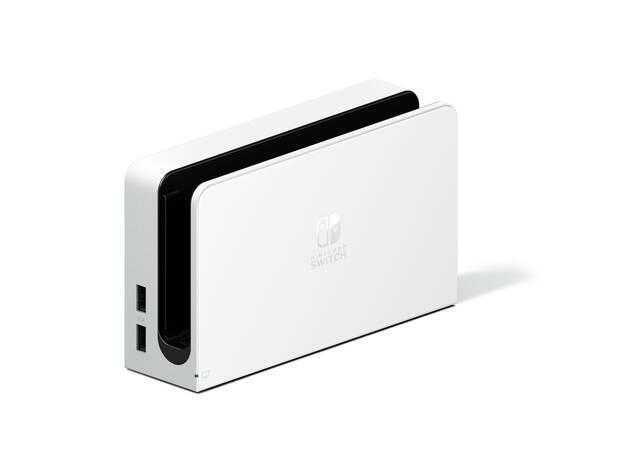 Something that has also caught our attention is a new adjustable width bracket of this model that gives more versatility when choosing the angle of inclination of the new Switch to play with our friends anywhere you can imagine.
Double the internal storage and sound enhancements
A key point and one of the most interesting beyond the new screen is that the OLED Model of Nintendo Switch is going to have twice as much internal storage as the original, that is, it will have 64 GB of memory for us to store our games, applications, saves or screenshots, a large increase over the 32 of the standard model.
In addition, lovers of good sound will be in luck with the OLED Switch since it will have a few new integrated speakers with optimized audio to enjoy clearer sound when playing in laptop or desktop mode.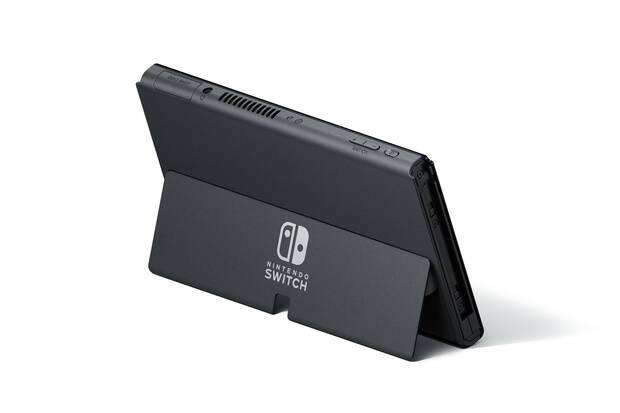 Same autonomy and no game improvements
Now let's talk about two points where there will be no changes with the Nintendo Switch Model OLED. The first of them is that we can say goodbye to the rumors of a new chip to offer us graphic improvements in video games, since from what it seems we will continue to have exactly the same graphics on a larger, higher-quality screen.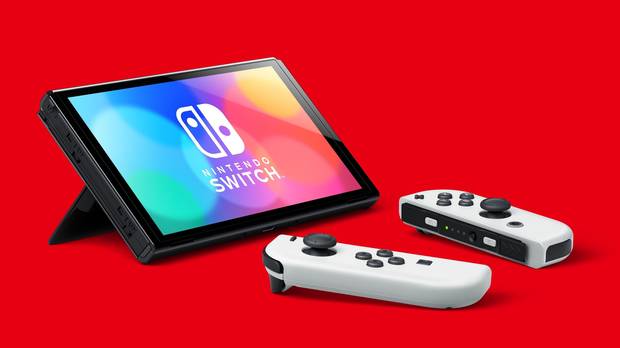 Nor do you expect changes in autonomy to remain from 4.5 to 9 hours, with about 5.5 hours of gameplay while running demanding titles for the Nintendo console such as The Legend of Zelda: Breath of the Wild.
Available in two models: white and nen red / nen blue
The new Switch will be available in two models:
Blanca: Composed of two white Joy-Con controllers, a black body and a white base.
Rojo nen / azul nen: Composed of a nen red Joy-Con controller and a nen blue one, black body and black base.