Nintendo GameCube It is probably one of the most highly valued game consoles of the company. Although it was not a sales success, as it barely reached the 22 million consoles sold throughout the world throughout its life cycle, the console has gained community appreciation over the years thanks to its unique, extensive and quality catalog. However, we do not come to tell you about the console itself, but about an experiment that a user of Reddit with the machine Nintendo.
The user Cityle has managed to create a functional PC inside a Nintendo GameCube
The practice of modify consoles It is very widespread and there are not few users who change the color of their consoles, add extra ports or make much more drastic changes. We know of some of these more extreme cases, such as the user of Tiktok who built a PlayStation from LEGO pieces or from a custom computer maker who used the chassis of an Xbox One S to create a PC. The case that concerns us today is very similar to the latter, with the difference that the chassis of a Nintendo GameCube to build a PC inside.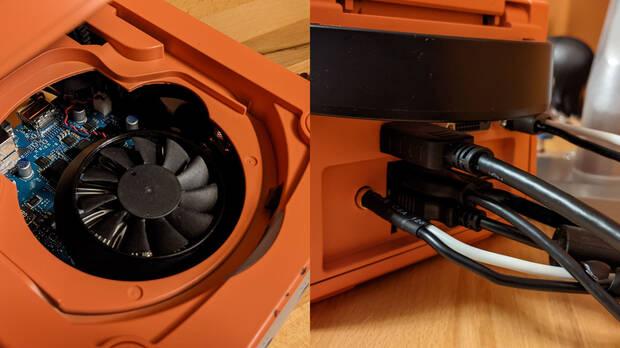 The user Cityle He has shared several images on Reddit in which he shows the console from different angles so that we can appreciate the work done. The components that you have had to use have been among the smallest on the market, since otherwise they would not have fit inside the case. For those knowledgeable and interested in computing, the list of components is as follows: PC motherboard Asus PN50 with a Ryzen 5 4500U, a Nvidia GeForce GTX 1650, 16 GB de RAM HyperX DDR4 and a Samsung SSD 860 WHICH about 2 TB of memory. The power supply is external due to size limitations.
Cityle You wanted to keep a log of the experiment creation progress. Other interesting data that we can extract is that the cover through which the discs are previously inserted, is now the ventilation window for graphics card. According to the user, although the components share a very narrow space and are very close together, temperatures are kept at normal levels and without heat peaks. Of course, you've also had to add some ports on the back of the console to be able to connect cables HDMI, USB y Ethernet, among others.