Nintendo made official this month the new Nintendo Switch OLED model, the revision of its console with improvements in the hardware, mainly its 7-inch OLED screen and certain changes in the dock and the audio, although the leaks about a further revision were not fulfilled. depth that improves graphics power or resolution; reach all markets on October 8; also to Spain, where it will be sold at a recommended price of 349.99 euros. Bloomberg, which has been one of the most active media in terms of publishing rumors about the supposed Switch Pro, has published a new article in which it addresses the issue of the price of this model and drops a data: the cost of making the OLED version is about $ 10 more per console than the standard model.
The text addresses the price increase and describes it as a new movement for console manufacturers that "have traditionally sought to squeeze sales -of hardware- by lowering prices instead of raising them", but with the COVID-19 pandemic since 2020 the industry Entertainment has seen the demand for video games rise. "The two Japanese giants of the game [Nintendo y Sony] have seen record profits, downloads and subscription numbers in the last year, "and according to Bloomberg, Nintendo is confident that this momentum can be maintained with a model of 350 euros / dollars which is more than the usual price of the original Switch, 300 euros / dollars. "In an industry where consoles routinely get a mid-generation markdown, the Switch raises the bar, mostly on a bigger, better OLED screen and a bit more space. Upgrades cost an estimated $ 10 more per unit, which is what does it mean that Nintendo is expanding profit margins and relying on its rich library of games to maintain its sales force. "
The text recalls that console prices have only experienced mid-generation price increases with the most powerful revisions, the case of PS4 Pro and Xbox One X, but Bloomberg does not consider it comparable to the case of Nintendo Switch OLED.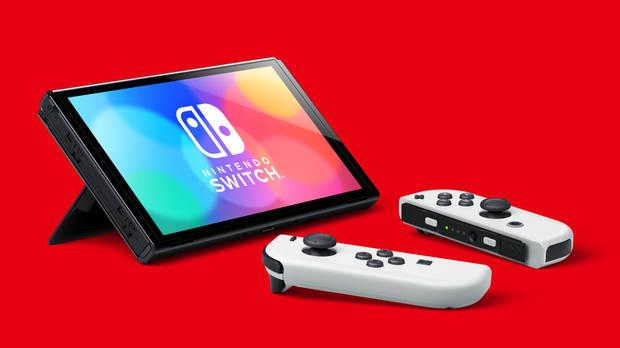 Cost calculations for improvements
The new OLED screen made by Samsung would cost an additional $ 3 to $ 5 per console over the old screen according to Yoshio Tamura, co-founder of research firm DSCC. The increase in internal space to 64GB is $ 3.5 more, Omdia's Akira Minamikawa calculates, while other changes like the new LAN-connected dock would add a few more dollars. "Nintendo has been selling the Switch at a profit since its launch", dice Bloomberg.

Technical specifications
The technical specifications of Nintendo Switch Model OLED are practically identical to those of the original model, saving the key differences that warrant a review of the hardware. There is no power increase, no CPU or RAM changes, and the custom NVIDIA Tegra processor from the original console remains.
Screen: Tctil multi-touch capacitive 7-inch OLED (1280×720)
CPU/GPU: Custom NVIDIA Tegra processor
Resolution: Up to 1080p in TV mode and up to 720p in laptop mode
Audio: Integrated Speakers stereo and 5.1ch Linear PCM compatible output via HDMI
Tamao: 102mm x 242mm x 13.9mm (with Joy Con attached
Weight: Approximately 320g (420g with Joy Con attached)
Dock: Base with connection via HDMI cable in TV mode and with LAN port for use in TV mode.
Controls: A pair of removable Joy Con controllers with HD vibration and infrared motion camera.
Internal storage: 64GB (expandable up to 2TB via microSDHC or microSDXC)
With: 4310 mAh lithium with a duration of approximately 4.5 to 9 hours
USB connection: Type C
Wireless connections: Wi-Fi (IEEE 802.11 a/b/g/n/ac compliant) y Bluetooth 4.1
Conexin jack: 3.5mm 4-pole stereo (CTIA standard)
Sensors: Accelerometer, gyroscope and brightness