The Spanish developer Gato Studio has announced that The Waylanders, your role-playing game inspired by Galician mythology, extend the development of your early access to receive the let the final en otoo de 2021, somewhat later than originally planned. This announcement has been made within the framework of the update 0.32, which adds useful functions to the game like full controller compatibility or five difficulty levels, as well as new dialogues, among other things that you can see in detail here.
Fernando Prieto, co-founder of Gato Studio, wanted to explain the reasons behind the delay in the release of its definitive version: "The development during this time of COVID-19 It has been a tough challenge and something that we have experienced in many indie developers over the past year. We have had to reorganize many of our processes and change the way we work with third-party providers, such as voice actors. "
New roadmap for early access to The Waylanders
Gato Studio shared a new roadmap with which you want to deal with future updates of The Waylanders, you can see it under these lines. In it, new content is revealed to receive the Celtic role-playing game: "We have been working hard to improve the content already available from The Waylanders attending to feedback that our community has provided us, while we have continued to develop the part of the game that will be added in the final version"explains Prieto.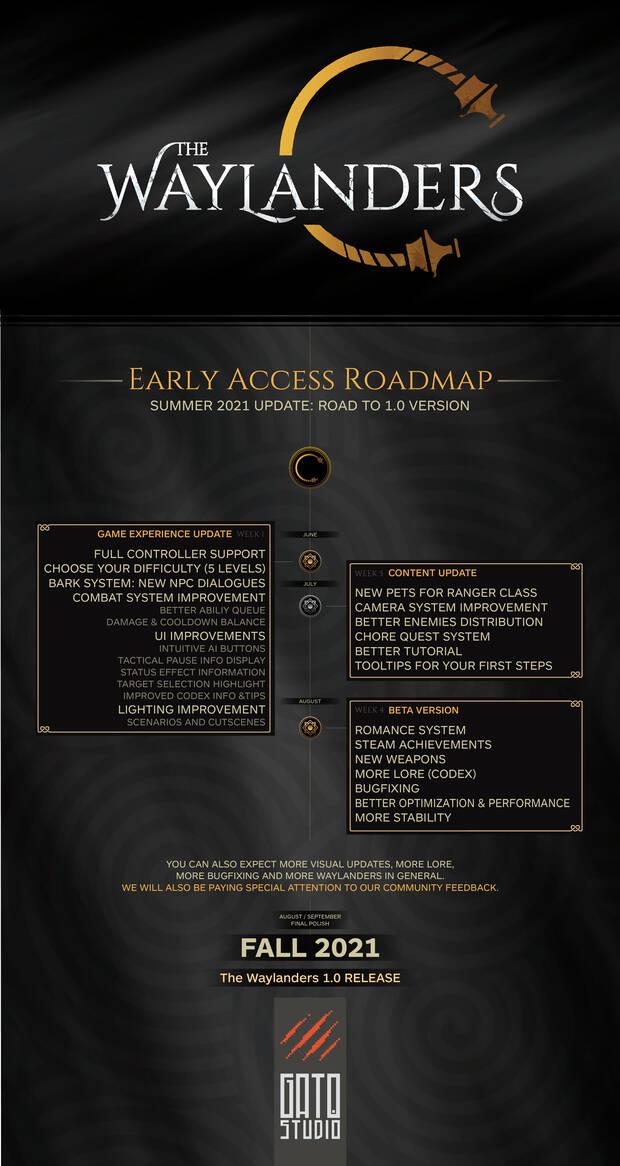 During the next updates of The Waylanders we will see the usual gameplay improvements and bug fixes, but also some news in the form of content such as new pets for the Explorer class, an expanded tutorial, and the
romances, "something highly anticipated by users", say from Gato Studio. These additions will arrive throughout this summer, between the months of July and August, to prepare the let 1.0 ahead of its release in the fall.
Early access The Waylanders is available in PC via Steam since June of last year.