If the players have to choose a game to be remastered, the decision seems to be clear to them: The Simpsons: Hit and Run, the 2003 title that immerses us in a city of Springfield in the purest style Grand Theft Auto. Originally Developed By Radical Entertainment in order to XBOX, PS2 and PC, since Activision They have not indicated at any time that they are going to prepare a remake or sequel to this beloved project. However, That hasn't stopped fans from picking him as their favorite in a new studio..
The Simpsons: Hit and Run, the most demanded remake
A new study conducted by the chain of stores GAME wanted to shed light on the preferences of the players when choosing what games do you want remastered. Using Google search data, trends, participation in different articles and other factors, GAME found out which remasters players want the most.
While using these measurements The Simpsons: Hit & Run I stayed in the position number 9, then GAME conducted a survey where the project received 44% of the votes. That positions him well ahead of games like Grand Theft Auto: San Andreas, which had received 24% of the votes. Third place went to Metal Gear Solid (19%) and the fourth position for Bully (eleven%). You can take a look at the results: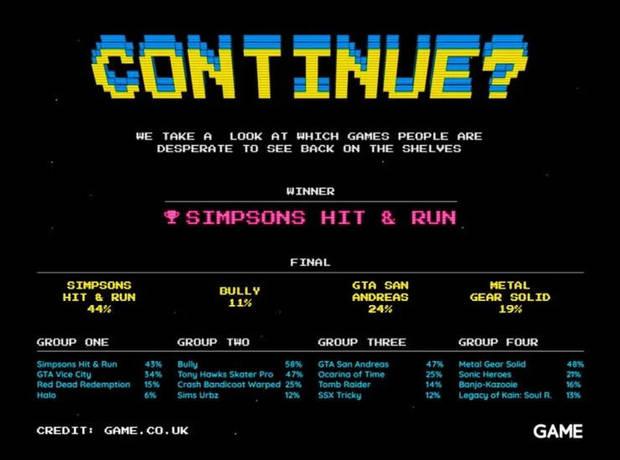 With 44% of the votes, The Simpsons: Hit & Run is the remake most requested by fans
For those interested, under these lines we leave you with the list of the 10 most requested remasters by players according to the GAME study. They are ordered by less demand to higher demand, regardless of the survey results:
The Urbz: Sims in the City
The Simpsons: Hit & Run
SSX Tricky
The Legend of Zelda: Ocarina of Time
Tomb Raider
Grand Theft Auto: Vice City
Bully
Red Dead Redemption
Tony Hawk's Pro Skater 3 & 4
Grand Theft Auto: San Andreas
A remake of The Simpsons: Hit & Run: It's possible?
The truth is that a former producer of the game, Vlad Ceraldi, I already value the possibility of making a remastering or a continuation of these crazy adventures in the year 2019: "There are many more things that could be done and that would be fascinating", valued. "I can see it on multiple different platforms, in remake form or as a remastering (…) It would be fun to explore these characters and this universe again, and it would work again."
For now, we will have to wait for Activision to have the last word on it. The company has made a facelift to sagas such as Crash Bandicoot or Spyro with the compilations Crash Bandicoot N. Sane Trilogy Y Spyro Reignited Trilogy. So it is not completely crazy to think that one day, give the green light to the rebirth of Hit & Run. Another Simpsons game to be launched was a title in the style of Mario Party, which EA ends up canceling.