The new model of Nintendo Switch is already official and we know its characteristics; Nintendo Switch Model OLED will go on sale on October 8 at a price of 349.99. Its main novelty is the revision on the screen that will now be 7 inches and OLED, 64 GB of internal storage, integrated speakers with improved sound, new adjustable wide stand and a dock or base with LAN cable internet port that improves the online experience. The current console user who does not want to completely renew his Switch but does take advantage of the new dock you can do it: Nintendo has confirmed that it will be sold independently.
The Japanese company announced that the dockBoth in their black and white versions, they can be purchased separately -without HDMI cable, power adapter or box- in the Nintendo online store. However not be for sale in establishments, or at least there are no plans for it at the moment. The price of this base that allows the use of the console connected to the television is not mentioned either.
The port of the new dock allows downloading at a higher speed and greater stability in the connection, and is fully compatible with the original model of Nintendo Switch -also vice versa, Nintendo Switch Model OLED will work without problems in the current dock-.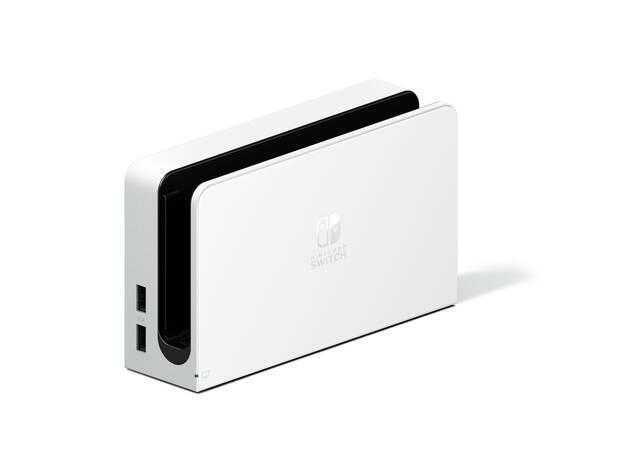 The most important news will be for those who play in laptop mode
Apart from the new base, the most visible improvement of the Nintendo Switch OLED model is described in its title: an OLED screen somewhat larger than that found in other models -7 compared to 6.2 of the original Switch or 5.5 of the Lite-que model offer a more vivid color, although the resolution remains intact -1280 x 720 pixels-. We remind you that there are no changes in CPU or RAM that affect performance. The new screen does not affect the autonomy of the battery, which will remain from 4.5 to 9 hours depending on the requirement of the games.
Two color models
The new model of Nintendo Switch can be obtained in two colors -in terms of the base and the Joy-Con-, white being the one that has stood out the most in the promotion of Nintendo.
Blanca: Composed of two white Joy-Con controllers, a black body and a white base.
Rojo nen / azul nen: Composed of a nen red Joy-Con and a nen blue one, black body and black base.