Conqueror's Blade prepares to immerse Spanish and worldwide players in a new adventure that will take them fight battles in the purest ancient Chinese style. The ancestral history of this Asian country pervades this popular PC MMO thanks to its Season 8, entitled Dynasty. Developed by MY.GAMES and Booming Tech this update is now available on PC, and it comes after we welcomed the Vikings with the previous season. In the video that we leave you below, you can take a look at the new class of weapons, units and locations.
Conqueror's Blade welcome China
"Season 8 is inspired by the golden age of cosmopolitan China during the Tang Dynasty ", the developers explain in the press release. In this way, players will experience the birth of the fictional dinasta Qian, through a series of campaign missions that accompany this content. "They will travel to a new location, Longting, which is inspired by East Asia. The new city of Hao Jing will serve as a meeting point with its peaceful environment. "
On the other hand, the eighth season also offers the twelfth class of weapons: the sink. "With its thrust, it can be used to reach enemies from a distance and sets the rules of engagement. It is a perfect opening to chain devastating combos against the enemy", point out the creators. In this way, the new weapon arrives for bring a new dynamic to the battlefield and the fighting style of the players.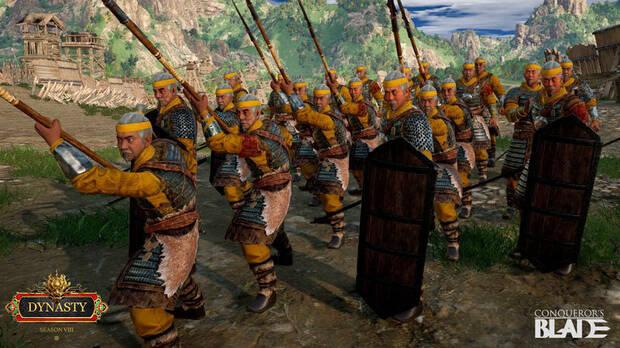 Three + 1 new units and Battle Pass
On the other hand, this update adds three new units that are inspired by classic military archetypes from Chinese history. We describe them below:
The Martial monks They are peaceful protectors who only use their powerful martial arts when there is no other choice.
The Veterans Garrison consists of siege experts
The Batalln de Modao It is a powerful vanguard unit to break through enemy lines.
Finally, from the unit tree you can also unlock the Grenadiers Shenji, a five star unit.
In turn, note that the Battle Pass It is already on sale through the official website of the game, for a price of 9.99 euros. It contains over 100 tiers of Premium rewards to unlock, while also including the Raging Emperor outfit for heroes, the Shadow Legion outfit for units, new emotes, weapon skins, and much more.