Oculus will soon release the v29 update for its Quest and Quest 2 devices which adds new features and functions. One of the most promising is Live Overlay, which allows you to capture video of the user and superimpose it on the gameplay that the user is watching inside the Oculus, something that can be interesting for gameplay broadcasts. Any VR application that supports recording and streaming will work with this feature, according to Oculus. To use this option you will need at least an iPhone XS or higher, a Quest and the Oculus application for iOS updated with a new version that will arrive soon. The camera can then be pointed at the user during the game.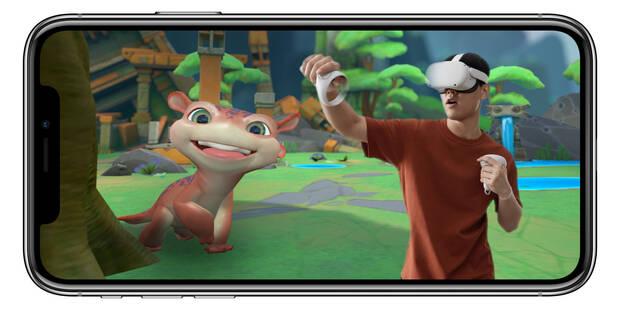 The solution is similar to what could be achieved with Mixed Reality Creator Tool for Quest and Rift S, but in this case you need a PC with certain requirements in RAM -16 GB-, graphics card, 1080p camera, Wi-Fi-5GHz and a green screen. Live Overlay displays the game and the user simply and with minimal effort. Oculus will also allow you to capture what the gamer is saying with the built-in microphone during broadcasts or video recording, and extends the support and sharing feature to users of the first Quest.
More changes and news
There are other novelties, such as the update of Infinite Office that allows users of iPhone 7 or higher – and in the future of Android – notifications on the Quest screen, and Oculus to start showing ads for VR experiences in the application with the intention to make these contents known to users and developers looking for new content. This would be a useful feature for small teams offering little-known quality experiences, without the advertising support of a large publisher.