Taito Joins "Miniature" Systems Launch With Egret II Mini Announcement, an arcade booth that includes 40 classic games from the company, from Space Invaders a Bubble Bobble. The original Egret II was released in 1996 and allowed to rotate the screen 90 in those games where a vertical format was used – many shooters-, and this feature is still present in the Egret II Mini thanks to a 5 "4: 3 LCD screen that can change its orientation, a difference from other reduced arcades from Sega or SNK.
In its main control we find six buttons and an arcade-style lever that can be adjusted from four to eight directions depending on the game. There are an optional expansion pad with another type of control more specific for titles like Arkanoid O Cameltry; a pad more similar to modern knobs is also sold. This is the list of confirmed games that are pre-installed on the machine.
Space Invaders
Lunar Rescue
Qix
Elevator Action
Chackn Pop
Bubble Bobble
Rastan Saga
Rainbow Islands Extra
New Zealand Story
Don Doko Don
Violence Fight
Cadash
Liquid Kids
Metal Black
Kaiser Knuckle
In addition to those 40 pre-installed games, the expansion knob includes an SD card with ten more titles using the paddle or the trackball. These are the advertised ones:
Strike Bowling
Arkanoid
Plump Pop
Syvalion
Cameltry
Arkanoid Returns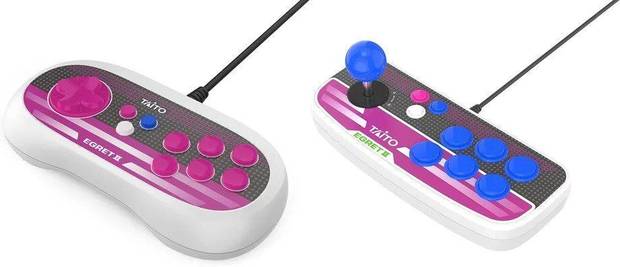 Launches March 2, 2022
Egret II Mini features an entry for SD cards, one USB-C port for operation and two USB-A ports for controllers, one HDMI for television and port jack for headphones.
Regarding prices, the cabin costs 18,678 yen -140 euros-, the expansion controller 12,078 yen -about 90 euros-, the extra arcade stick 8778 yen -almost 66 euros- and the gamepad 3,278 yen -almost 25 euros-. There is a limited pack with all of the above plus soundtracks on CD per 49,478 yen -371 euros- and another something more affordable without arcade stick and gamepad for 32,978 -247 euros. Be on sale, at least in Japan, on March 2, 2022.