The day has finally come: the amusement park Super Nintendo World has opened its doors in Osaka (Japan), allowing fans to tour this Champin Kingdom come true. Universal Studios Japan and Nintendo had to delay the opening due to the coronavirus pandemic, but in the middle of March they managed to the facilities welcome their first visitors. The grand opening ceremony had the stellar presence of the same Shigeru Miyamoto, father of the saga.
[トピックス]The new area "Super Nintendo World TM" of "Universal Studios Japan" is grand opening today. https://t.co/0sBJBwZdJJ pic.twitter.com/lsyd41RUYa Nintendo Co., Ltd. (@Nintendo) March 18, 2021
Super Nintendo World manages to open its doors in Osaka
Today there was the grand opening of the amusement park Super Nintendo World in Osaka; an event that had the presence of Shigeru Miyamoto on behalf of Nintendo, and with the President and CEO of Universal Studios Japan, JL Bonnier. In the Official website Nintendo has shared a whole string of images that allow us to take a look at part of the facilities: Peach's castle or the green pipe features are some of the sets that we can find, along with all kinds of games.
Along with characters like Mario and Luigi, Miyamoto joined the visitors to shout in chorus: "We are Mario!" and thus perform the characteristic pose of the protagonist, to commemorate that the first people have been able to enter the park. Of course all they wore the masks to prevent infections caused by COVID-19. From Nintendo and Universal Studios Japan they assured at the time that the facilities are "safe" for both visitors and park workers.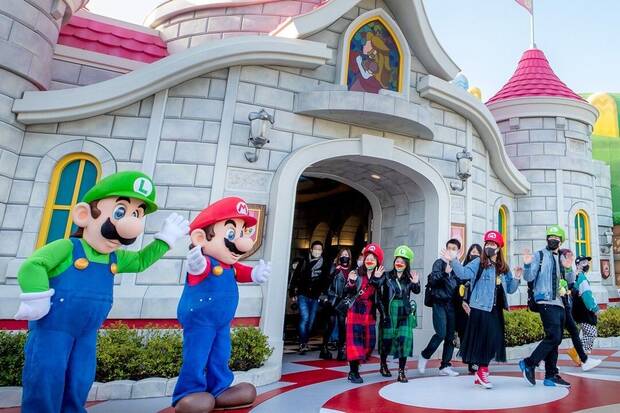 Shigeru Miyamoto joins the opening of Super Nintendo World in Osaka
Miyamoto and the staff were tasked with guiding the first guests through the pipes, leading them into Super Nintendo World. Once visitors were taken to the general park area, they were able to roam freely in the park in the presence of Miyamoto, JL Bonnier, and staff. We remind you that Nintendo has opened a website where you can find more information about this amusement park.
In the meantime, the opening of Super Nintendo World in Florida it would have been delayed until 2025. The Hollywood park, however, could be ready in a matter of a year or two; although it will be much smaller. Under these lines you can enjoy the image gallery from the park in Osaka.