In recent years, more and more developers design specific options for visually impaired users: use of high contrast, large interface and text, more soundtracks, etc. Lenstore has carried out a study between the best rated games on various platforms, according to Metacritic, and the most popular of 2020. The functions designed to give accessibility and the one with the most options is The Last of Us Parte 2 from PS4, followed by veteran World of Warcraft PC and Nintendo Switch and PC game Into the Breach. Behind them we find Microsoft Flight Simulator, Dota 2, Red Dead Redemption 2, Forza Horizon 4, Minecraft, StarCraft 2 Y XCOM.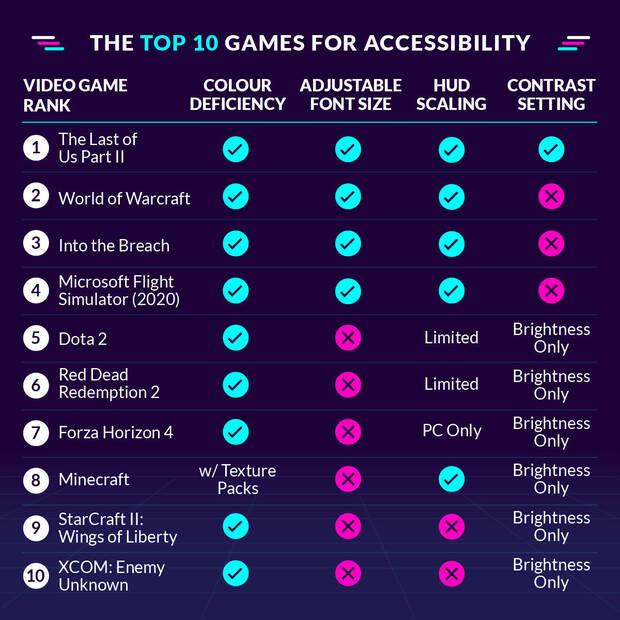 The study also analyzes recent launches and among them they reappear The Last of Us Parte 2 Y Microsoft Flight Simulator, but it is collected that There are still many games that lack options for players with color deficiencies.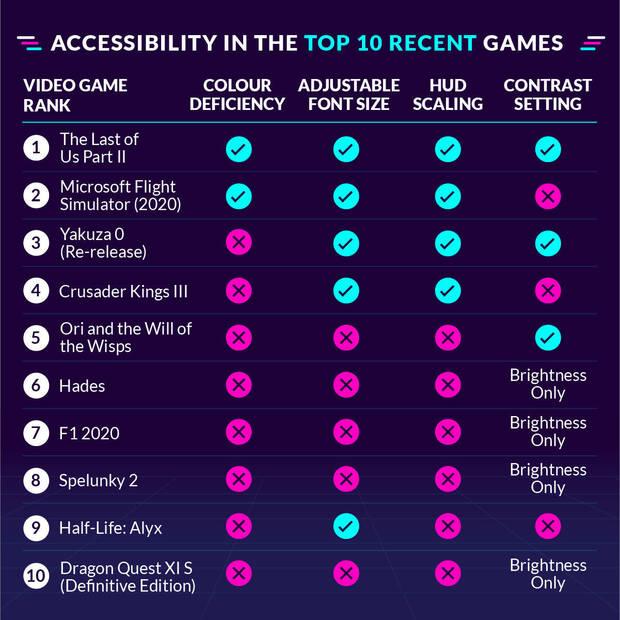 The settings that the study considers basic
"Video game development is constantly evolving and the number of accessibility options in popular games such as The Last of Us Parte 2 it is proof of how the industry can create its products to support all players, "says the study, which consider basic the options for adjusting the size of the texts, in addition to recommending voice messages for texts wherever possible, auto-pointing, the ability to skip the more complicated game sections, difficulty levels or improve the contrast level beyond what is usual on each platform.
Outside of the world of video games, text also analyzes the most popular board games and among them the most comfortable for visually impaired players is chess, followed by Cribbage, Liar's Dice, Quarto and Quoridor.