The official announcement of Steam Deck was produced this very night, with Valve displaying all the information and details of this laptop that allow us to enjoy our Steam library wherever we want. While we have already been able to enjoy the first gameplays, Today July 16 at 7:00 p.m. (Spanish peninsular time) will be available the reserves of the three different models that we detail below. The first units will be shipped this December. In order to avoid resellers, only one Steam Deck can be reserved for each Steam account, and you have to have made a purchase in the Valve store before June 2021, which prevents new accounts from being created to reserve the console.
Steam Deck: Three Models, Different Prices and Capacities
Steam Deck ofrece three different models They vary based on their price and capabilities. Starting at 7:00 p.m., players can choose the option that best suits their needs. We also detail the content included in each of the versions of the portable console:
64 GB eMMC por 419 euros: includes carrying case
256 GB NVMe SSD for 549 euros: faster storage, includes carrying case and exclusive Steam Community Profile Bundle
512 GB NVMe SSD for 679 euros: faster storage, premium anti-reflective screen, exclusive carrying case, exclusive Steam Community profile bundle, virtual keyboard with exclusive theme
We recall that each of these systems can expand its storage by a microSD card slot.

As it is SteamDeck
Steam Deck features a 7 "touch screen and has a built in AMD Zen 2 + RDNA 2 custom APU, delivering 1.6 teraflops power. While that number is less than the 1.8 TFlops on the PS4, the truth is that the Steam console offers a more modern and efficient architecture, which results in it having better performance than Sony's console. In fact, in laptop mode it offers a resolution of 1280×800.
The platform has capacitive touch sensors and two trackpads, as with gyroscopes that allow us to aim better. But if these controls do not convince you when playing certain games, we can also connect a mouse, keyboard, controllers or any other peripheral thanks to its different ports (it has several USB); We can also take advantage of the wireless connections of the console for this.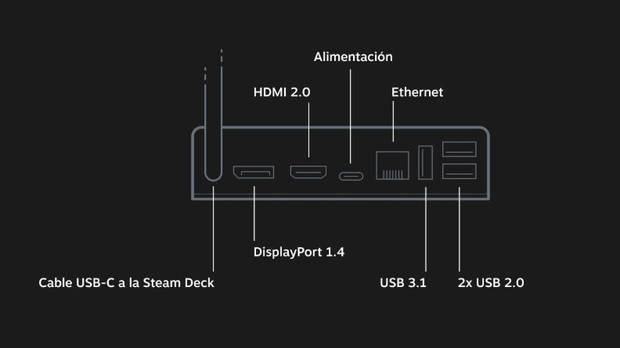 Steam Deck reservations open today at 7:00 p.m. in Spain
On the other hand, we will not only be able to play our Steam games wherever we want: we will also be able to connect the device to a TV or monitor thanks to the docking station, which will be sold separately and has not yet been revealed. The battery, on the other hand, is expected to last between 7 or 8 hours.; although it is possible that the most demanding games end up depleting the energy after 3-4 hours. Steam Deck comes with SteamOS 3.0, based on Linux, installed: but Valve has already made it clear that we can install any software or operating system.
Steam Deck Technical Specifications in Detail
Their technical specifications with the following:
Prosecution
Processor: APU AMD
CPU: Zen 2 4c/8t, 2.4-3.5 GHz (hasta 448 GFlops FP32)
GPU: 8 RDNA 2 CUs, 1-1.6 GHz (hasta 1.6 TFlops FP32)
APU power: 4-15 W
RAM: 16 GB LPDDR5 RAM (5500 MT/s)
Storage: 64 GB eMMC (PCIe Gen 2 x1), 256 GB NVMe SSD (PCIe Gen 3 x4), 512 GB high-speed NVMe SSD (PCIe Gen 3 x4), all models include a slot for high-speed microSD cards
Screen
Resolution: 1280 x 800 pixels (16:10 aspect ratio)
Kind: LCD screen with optical lamination for improved readability
Screen size: 7 "diagonal
Brightness: 400 nights (typical)
Update frequency: 60 Hz
Touch enabled: S
Sensors: Ambient light sensor
Controls
Controller controls: ABXY buttons, Crosshead, L and R analog triggers, L and R front buttons, View and Menu buttons, 4 assignable grip buttons
Sticks analgicos: 2 full-size analog sticks with capacitive touch
Hepatic response: HD optical response
Trackpads: 2 x 32.5mm square trackpads with haptic feedback (55% better latency compared to Steam Controller, Pressure-sensitivity for configurable click strength)
Gyroscope: 6-axis IMU
Connectivity
Bluetooth: Bluetooth 5.0 (support for controllers, accessories and audio)
Wi-Fi: Radio wifi de doble banda, 2.4 GHz y 5 GHz, 2 x 2 MIMO, IEEE 802.11a/b/g/n/ac
Audio
Channels: Premiere with integrated DSP for an immersive sound experience
Microphones: Dual Microphone Array
Headphone and microphone jack: 3.5 mm headphone / headphone jack
Digital: Audio multicanal va DisplayPort a travs de USB-C, USB-C estndar o Bluetooth 5.0
Alimentacin
Entry: 45W USB Type-C PD3.0 power supply
With: 40 Wh battery. 2-8 hours of play
Expansin
microSD: UHS-I supports SD, SDXC and SDHC
External connectivity for controls and displays: USB-C con soporte DisplayPort 1.4 Alt-mode; hasta 8K @ 60 Hz o 4K @ 120 Hz, USB 3.2 Gen 2
Size and weight
Tamao: 298 mm x 117 mm x 49 mm
Weight: Approx. 669 grams