In order to celebrate in style the LGBTQ + Pride Month, since Square Enix have created their own mascot designed by Toshiyuki Itahana, who had already worked on the saga Final Fantasy. The company has shared the design of their mascot through social media and they have mentioned that represents diversity and freedom. They also wanted to appeal to users, since they want them to help them name it. To participate, it is necessary reply to the post with a name idea to enter the selection. It has not been revealed when they will give the final name, although when it is ready they will announce it by Twitter.
Our #Pride Mascot designed by Toshiyuki Itahana represents diversity and freedom, and we want you to help name them!

Reply to this tweet with a name idea and it might become part of Square Enix history.https://t.co/Mrs0HolY9g #loveislove pic.twitter.com/atCLgXJQir Square Enix (@SquareEnix) June 1, 2021
The Square Enix mascot also brings with it a limited series of charity apparel
Toshiyuki Itahana wanted to explain the design of his character and wanted to clarify that it is much more than a character with a beautiful art style: "The character represents diversity and freedomIts multitude of colors being the aspect of diversity and the wings that allow it to travel anywhere symbolize freedom ", he commented Itahana. "I designed this character in the hope that the world could still be freer and more diverse in the future". Since Square Enix They have also been very enthusiastic about their initiative: "We are committed to growing our global solidarity and strengthening a inclusive and supportive culture. In that spirit, today marks the beginning of the Pride month, and we continue our push to support and celebrate the LGBTQ + community with a variety of commitments from Pride month… and we want you to join us. "
The mascot of Square Enix It was introduced as a novelty last year. That is why, due to the incredible reception it had, from the company they want users to participate in naming it to emphasize the values ​​it intends to convey. Square Enix also wanted to clarify that they do not want the selection of the name to become a hostile competition and have asked users to be kind and take into consideration the words of Itahana.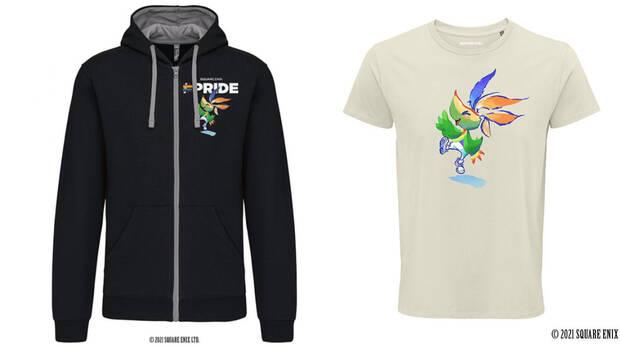 In addition to all that has been said, for this year some limited edition garments that can be purchased in the Square Enix store. The new clothing line includes two T-shirts and a hoodie. All proceeds will be donated to GLAAD and Stonewall charities. Square Enix further motivates users to get informed and get involved in the causes of charities, which for them are an inspiration and very important to achieve a real and positive change.