Sonic Colors: Ultimate arrives September 7 with all the fun of the original Wii game to new platforms – Nintendo Switch, PS4, Xbox One and PC – plus a whole host of graphic and content improvements by Blind Squirrel Entertainment. The last trailer reviews all these characteristics that will make even more rounded what is considered one of the best Sonic in 3D from the last decade.
The list of improvements that we can see in the video are the following:
Actualizacin HD: new high definition graphics and other improvements, at 60 images per second, new lighting system, resolution of up to 4K – depends on the platform – and other updated details.
New Rival Rush mode: a showdown against Metal Sonic to unlock rewards.
Personalization: Go to the store and use the tokens collected in the park to unlock auras, boosts, shoes and gloves that customize Sonic.
Jade Ghost: transform Sonic, fly through the park and cross areas to reach new secret areas.
Customizable control: You can modify the control to your liking according to the way you play.
Saved Tails: Find one of these saves and return to it if you need to be rescued.
100 Count Ring: collect 100 Count Rings to gain temporary invincibility and boost your score at the end of each level.
Msica: soundtrack completely remixed.
Sonic, Wisps and an amusement park to explore
"The evil Dr. Eggman has built a gigantic interstellar amusement park filled with incredible rides and colorful attractions, but he feeds it with a captured alien race called 'Wisps,'" says his story. Free the Wisps and learn the secrets of their powers as we explore six unique colorful worlds, each filled with dangerous enemies and obstacles to overcome.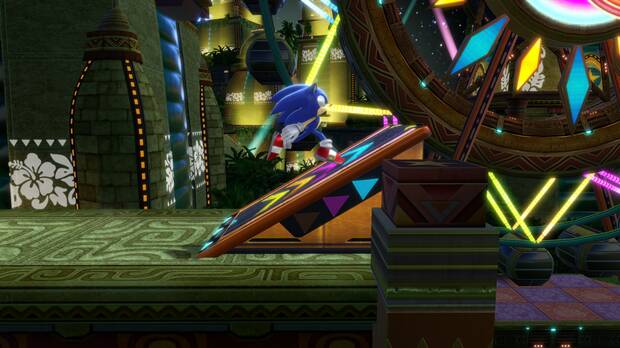 Editions and incentive for booking
Advance pre-order of the standard physical version in stores – 39.99
Exclusive Sonic baby keychain.
Sonic Colours: Ultimate Edicin estndar digital – 39,99
Movie Sonic Movie Boost: Harness all the power of Sonic from the hit Paramount Pictures movie and gain a unique electric boost and aura.
Exclusive Player Icons: Stand out from the crowd with your own exclusive player icons.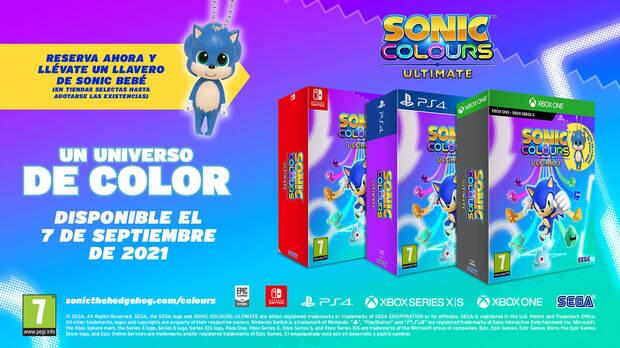 Sonic Colours: Ultimate Edicin Digital Deluxe – 44,99
Early access: get going and enjoy Sonic Colours Ultimate in advance, on Friday, September 3, 2021 at 2:00 p.m.
Exclusive Player Icons: Stand out from the crowd with your own exclusive player icons.
Ultimate cosmetic set: Customize Sonic and stand out with exclusive gold and silver shoes and gloves, an electric boost and aura from the hit Sonic movie, and exclusive Sonic movie-themed player icons.
Definitive Music Ensemble: Three exclusive remixes of the game to set the pace as you take down Dr. Eggman.