Sega has confirmed, as part of the Sonic Central event celebrating 30 years of their pet, Sonic Colours: Ultimate, an update to their 2010 platforms that arriving September 7 with a suggested retail price of 39.99 on PlayStation 4, Xbox One and Nintendo Switch, with a digital release on PC via the Epic Games Store. For a limited time, Sonic fans can pre-order the physical edition of Sonic Colours: Ultimate and access an exclusive Sonic Baby keychain. Developed by Blind Squirrel Entertainment, the title returns with new visual effects, additional features, a new mode and gameplay improvements, providing gamers with the best version of Sonic Colours.
"The evil Dr. Eggman has built a gigantic interstellar amusement park packed with amazing rides and colorful rides, but it feeds him a captured alien race called 'Wisps', "says his story. free the Wisps and learn the secrets of their powers as we explore six colorful unique worlds, each filled with dangerous enemies and obstacles to overcome.
We can explore a Sweet Mountain or an Aquarium Park full of marine life and countless pools, among other settings of this mysterious astral amusement park. With the mode Rival Rush we will test our skills to face Metal Sonic and thus unlock rewards.
Editions and incentive for booking
Advance pre-order of the standard physical version in stores – 39.99
Exclusive Sonic baby keychain.
Sonic Colours: Ultimate Edicin estndar digital – 39,99
Movie Sonic Movie Boost: Harness all the power of Sonic from the hit Paramount Pictures movie and gain a unique electric boost and aura.
Exclusive Player Icons: Stand out from the crowd with your own exclusive player icons.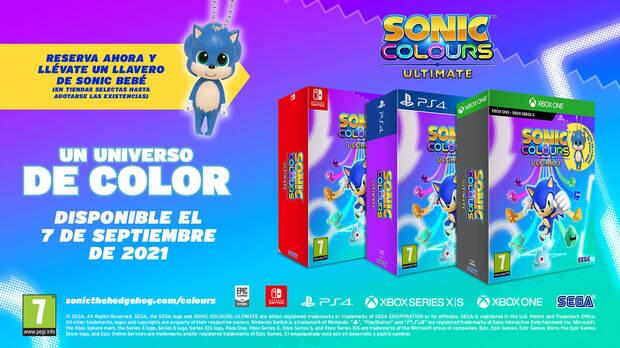 Sonic Colours: Ultimate Edicin Digital Deluxe – 44,99
Early access: get going and enjoy Sonic Colours Ultimate in advance, on Friday, September 3, 2021 at 2:00 p.m.
Exclusive Player Icons: Stand out from the crowd with your own exclusive player icons.
Ultimate cosmetic set: Customize Sonic and stand out with exclusive gold and silver shoes and gloves, an electric boost and aura from the hit Sonic movie, and exclusive Sonic movie-themed player icons.
Definitive Music Ensemble: Three exclusive remixes of the game to set the pace as you take down Dr. Eggman.