We already know that Scarlet Nexus, the new and expected hack and slash de Bandai Namco, was scheduled to premiere this summer, but today the company announced that the launch of this long-awaited title will take place on the 25 de junio para PS5, Xbox Series X/S, PS4, Xbox One y PC. It has also been confirmed today that all editions of the game can already be reserved, starting with the most basic and cheapest, the standard edition, which in Spain has a recommended price of 69,99 euros on all platforms except PC, where it costs 49.99 euros.
On the occasion of this announcement, a new trailer of Scarlet Nexus focused on the story of Kasane and the members of her team. You can see it below:
The special editions of Scarlet Nexus already available to reserve
Scarlet Nexus can also be purchased at your Guardians Edition, whose price rises in our market to 119,99 euros for PS5, Xbox Series X / S, PS4 and Xbox One, while on PC it costs 99.99 euros. This edition includes the following content physical and digital:
Three plates with exclusive 'Alter' designs
Scarlet Nexus Picture Book (Hardcover)
FSA sticker
Tea broom
Scarlet Nexus Picture Book (Digital Format)
Scarlet Nexus soundtrack
Special Battle Outfit Set 'Red'
Accessory 'The Alter'
SAS plug-in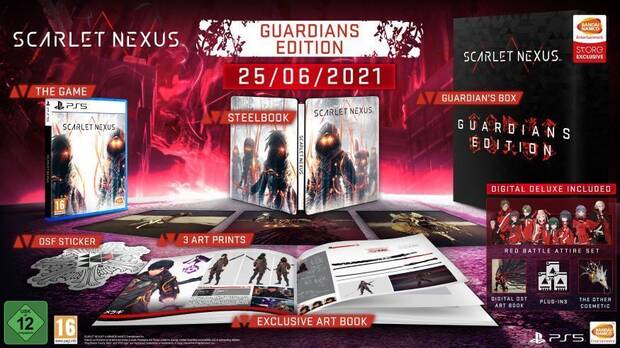 There is a third edition, the Deluxe, what only be available digitally and includes the following contents: a digital art book, the original soundtrack, a set of special combat clothing (Red), a cosmetic Alter and a SAS plugin.
In addition, Those who reserve any of these editions will also receive a content package as a pre-purchase bonus, a pack that includes a set of special 'Snico' battle outfits, the 'Dreamcatcher' accessory, the 'Face Vision Seal' accessory and a 'Baki' accessory set. If the reservation is made through the Bandai Namco store, you will also get an exclusive set of weapons.
Scarlet Nexus is a third person action game in which we will control the heroes of the Alter Suppression Forces (FSA), skilled warriors who will use their extrasensory gifts to put an end to the deranged mutants who have arrived on Earth and have humanity in suspense.