Housemarque has released two updates for Returnal in just over fifteen hours. The first of them, the patch 1.3.3, was published on the night of Wednesday, May 5, solving errors but causing one with a lot of weight: the Some player's games have been completely deleted. The update was withdrawn two hours after its launch. At noon on May 6, the version 1.3.4, fixing the bug, but only in some cases. There will be players who have lost their game forever.
The saved games error would appear if when starting the game the players saw a error display with numbering: "CE-1000028-1". Those affected by this failure may be in different scenarios, as explained from Housemarque on their website. If the save file has kept its size, no problem: when installing patch 1.3.4 everything works normally.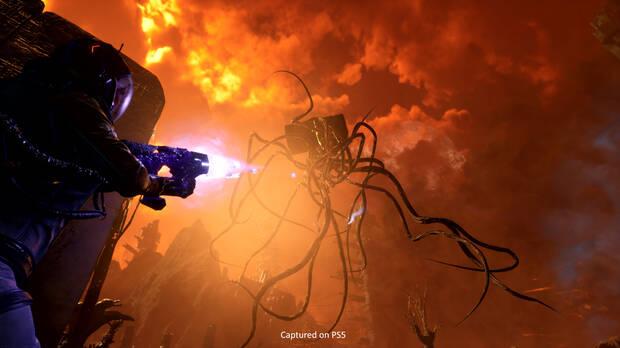 How to solve the deleted game error in Returnal
However, some saved games have been effectively "deleted" by patch 1.3.3 by reducing the size of the save file to 0 KB. In that case, you have to check if there is a save file on PlayStation Plus. In the main menu of PS5, press the Options button on the icon of Returnal and go to "Check synchronization status of saved data". If the one of your console occupies 0 KB and that of PS Plus s has size, download it, although you may have lost some progress.
But from Housemarque they warn: "Depending on the console settings, the file in cloud could have been overwritten by save file 'deleted' previously mentioned. If this is the case, progress will still be insurmountable, even with patch 1.3.4 ". That is, players will have to start from scratch.
Patch 1.3.3 has been pulled and we are reverting back to 1.3.1 until it's fixed.

We are fixing the issue now and a new patch will be published in a few hours

All users affected by the 1.3.3 need to re-download the game.

Our sincerest apologies.— Housemarque (@Housemarque) May 5, 2021
Update 1.3.4 fixes a bug with trophies and a exploit using keyboard, but returns the version of the build to which there was the day before yesterday, to patch 1.3.1. "Please stay tuned for information on the Patch 1.3.5 in the near future", they conclude. In a tweet published during the early morning, from Housemarque they said: "Our sincerest apologies".