Resident Evil Village is the last installment of the saga of survival horror Capcom in which players were able to see again some of the most charismatic characters of the saga as Chris Redfield while we discover the new story of Ethan Winters that this time he had to face a kind of werewolves and vampires in a fictional town in Romania.
From the first day the title won the praise of many players and also some criticism especially among PC users who suffer from certain performance issues such as stuttering when they killed a creature or when they met the daughters of Lady Dimitrescu, at which time you could see in many cases screen slowdowns, errors that many players attributed to the DRM of the game and that, finally, are produced because of this anti-piracy system.
In a video from the Digital Foundry (DF) channel, specialized in conducting complete technical analysis of video games, the team shows that the problems are related to Denuvo, the well-known anti-piracy system that is present in the game together with Capcom's own DRM. For the demonstration, DF compares versions of Resident Evil Village with and without this technology reaching a clear conclusion, problems disappear with the new version without the anti-piracy system present.
"I can confirm that this version solves the key points of performance problems", says Richard Leadbetter in an article that accompanies the video in which we can see how the delay of up to 130 milliseconds in the original version it causes forceful drops of fps in the moments that we have described previously while the version modified by the community does not suffer alterations in this sense.
For the moment Capcom and Denuvo have not commented. about the problems that the latest Resident Evil suffers because of a DRM that would be affecting especially the performance of older processors with the game causing the slowdowns and problems that many players are suffering.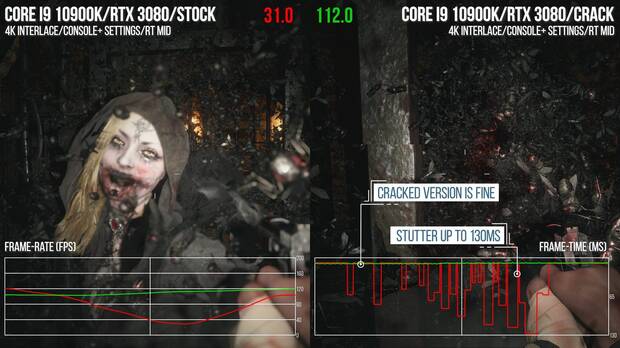 Not the first time Denuvo has affected the performance of a Capcom game
Digital Foundry has shown this time that Denuvo and Capcom's DRM significantly affect the performance of Resident Evil Village on PC but this It is not the only time that these protection systems take their toll on the performance level in a game of the Japanese company.
In March 2019, Capcom mistakenly published an executable of Devil May Cry 5 for PC that was free of Denuvo and its DRM. After doing so, the community could see how the title improved its performance by up to 20 fps depending on the computer used, an important performance jump that was achieved thanks to the absence of the always controversial Denuvo.