Resident Evil 8: Village It was one of the biggest games of the last month, so Capcom's adventure had no difficulty in becoming the best-selling game on the PS5 PlayStation Store, both in Europe and in the United States and Canada, almost identical results on PS4. In the new generation of Sony Returnal -launched April 30- also sneaks into the top spots and competes with the most successful sports titles: FIFA 21 in Europe and MLB The Show 21 on the American list.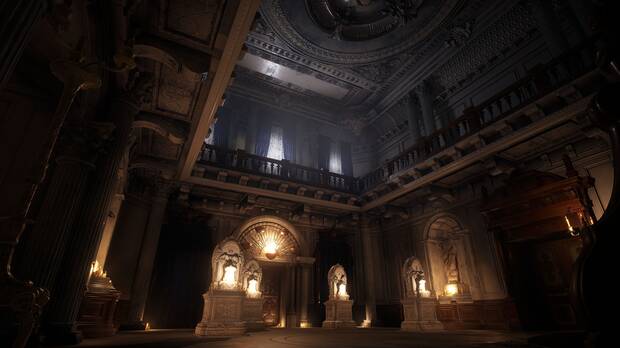 In the PS4 lists we find some other titles such as Rust Console Edition, Minecraft Y Mass Effect Legendary Edition, in addition to the eternal Grand Theft Auto V It doesn't seem to suffer any exhaustion as the years and generations go by. In virtual reality Beat Saber is the favorite in the two regions analyzed together with Vader Immortal: A Star Wars VR Series, Job Simulator O SUPER HOT VR.
Few surprises among free game downloads, with Call of Duty: Warzone in the first place of the two lists, followed by Rocket League, Fortnite Y Genshin Impact The order varies a bit according to the continent.
PlayStation 5
Europe
1. Resident Evil Village
2. FIFA 21
3. Returnal
4. Subnautica: Below Zero
5. It Takes Two
6. Marvels Spider-Man: Miles Morales
7. Hood: Outlaws & Legends
8. Assassins Creed Valhalla
9. Call of Duty: Black Ops Cold War
10. NBA 2K21 Next Generation
11. TOM CLANCYS RAINBOW SIX | SIEGE
12. Mortal Kombat 11
13. Demons Souls
14. Immortals Fenyx Rising
15. Crash Bandicoot 4: Its About Time
16. Tony Hawks Pro Skater 1 + 2
17. OUTRIDERS
18. WRC 9 FIA World Rally Championship
19. Mortal Shell: Enhanced Edition
20. No Mans Sky
United States / Canada
1. Resident Evil Village
2. Returnal
3. MLB The Show 21
4. Marvels Spider-Man: Miles Morales
5. NBA 2K21 Next Generation
6. Subnautica: Below Zero
7. Mortal Kombat 11
8. It Takes Two
9. FIFA 21
10. Hood: Outlaws & Legends
11. Call of Duty: Black Ops Cold War
12. Assassins Creed Valhalla
13. Demons Souls
14. TOM CLANCYS RAINBOW SIX SIEGE
15. OUTRIDERS
16. Tony Hawks Pro Skater 1 + 2
17. Madden NFL 21
18. Sackboy: A Big Adventure
19. Judgment
20. Immortals Fenyx Rising
PlayStation 4
Europe
1. Resident Evil Village
2. Minecraft
3. Rust Console Edition
4. Grand Theft Auto V
5.NBA 2K21
6. Mass Effect Legendary Edition
7. FIFA 21
8. The Crew 2
9. Biomutant
10. Subnautica: Below Zero
11. The Forest
12. Call of Duty: Black Ops Cold War
13. Call of Duty: Modern Warfare
14. Fall Guys: Ultimate Knockout
15. Mortal Kombat X
16. Far Cry 3 Classic Edition
17. The Witcher 3: Wild Hunt
18. STAR WARS Jedi: Fallen Order
19. Gang Beasts
20. It Takes Two
United States / Canada
1. Rust Console Edition
2. Resident Evil Village
3. Mass Effect Legendary Edition
4. Grand Theft Auto V
5. MLB The Show 21
6.NBA 2K21
7. Mortal Kombat 11
8. Biomutant
9. Call of Duty: Black Ops Cold War
10. Minecraft
11. Knockout City
12. Mortal Kombat X
13. Need for Speed Heat
14. Subnautica: Below Zero
15. UFC 4
16. The Forest
17. Call of Duty: Modern Warfare
18. It Takes Two
19. Gang Beasts
20. Red Dead Redemption 2
PS VR Games
Europe
1. Beat Saber
2. Job Simulator
3. Vader Immortal: A Star Wars VR Series
4. SUPER HOT VR
5. DOOM 3: VR Edition
6. Blood & Truth
7. Gun Club VR
8. Creed: Rise to Glory
9. Paranormal Activity: The Lost Soul
10. Swordsman VR
United States / Canada
1. Beat Saber
2. Vader Immortal: A Star Wars VR Series
3. Job Simulator
4. SUPER HOT VR
5. Creed Rise to Glory
6. Gun Club VR
7. Swordsman VR
8. DOOM 3: VR Edition
9. GORN
10. Surgeon Simulator: Experience Reality
Free-to-Play (PS5 + PS4)
Europe
1. Call of Duty: Warzone
2. Rocket League
3. Fortnite
4. Genshin Impact
5. Brawlhalla
6. Apex Legends
7. Destiny 2
8. World of Tanks
9. Rogue Company
10. Rec Room
United States / Canada
1. Call of Duty: Warzone
2. Fortnite
3. Rocket League
4. Genshin Impact
5. Apex Legends
6. Destiny 2
7. Brawlhalla
8. Rec Room
9. Rogue Company
10. Warframe