Offered by GAME Spain.
The chain of stores GAME has revealed, as every month, what have been the titles that have governed the sales of video games in their establishments. On this occasion, we discovered that Resident Evil 8: Village It was the game that rose as the best-selling game last May; a title that that same month exceeded three million copies sold. Second we discover FIFA 21, while the third place went to the emblematic Minecraft.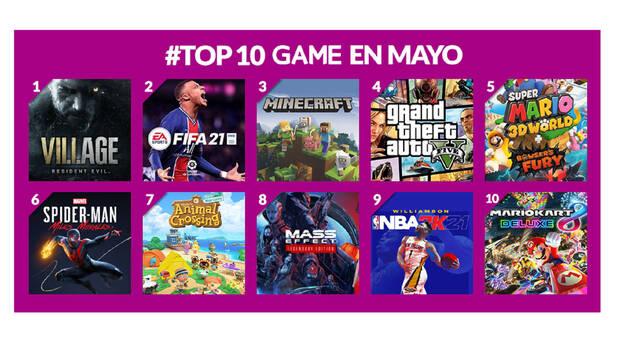 Top 10 best-selling software (general)
1. RESIDENT EVIL VILLAGE
2. FIFA 21
3. MINECRAFT
4. GTA V
5. SUPER MARIO 3D WORLD + BOWSER'S FURY
6. MARVEL'S SPIDER-MAN: MILES MORALES
7. ANIMAL CROSSING: NEW HORIZONS
8. MASS EFFECT: LEGENDARY EDITION
9. NBA 2K21
10. MARIO KART 8 DELUXE
Although his debut has been the worst for a delivery of the saga Resident Evil in Japan, the truth is that Village s managed to star in the best premiere on Steam of the entire saga. It also became the third biggest PS5 launch in the UK. On the other hand, we discover in second position FIFA 21, a title that is common to discover in this top of GAME. Minecraft close the top 3; a game that has generated over 1 billion mods and continues to bring together more than 140 million monthly players.
PlayStation 5
1. Resident Evil Village
2. Marvels Spider-Man: Miles Morales
3. Returnal
4. Demon's Souls
5. Sackboy A Big Adventure!
6.NBA 2K21
7. Marvels Avengers
8. Assassins Creed Valhalla
9. FIFA 21
10. Yakuza Like a Dragon
PlayStation 4
1. Resident Evil Village
2. GTA V
3. FIFA 21
4. Mass Effect Legendary Edition
5. God of War
6. Minecraft
7. Gran Turismo Sport
8. NBA 2K21
9. Biomutant
10. Assassins Creed Valhalla
Nintendo Switch
1. Super Mario 3D World + Bowsers Fury
2. Minecraft
3. Animal Crossing: New Horizons
4. Mario Kart 8 Deluxe
5. Mitopia
6. New Pokmon Snap
7. FIFA 21
8. Ring Fit Adventure
9. Pokémon Sword / Pokémon Shield
10. Super Mario Party
Xbox Series S/X – Xbox One
1. Resident Evil Village
2. Mass Effect Legendary Edition
3. Biomutant
4. GTA V
5. FIFA 21
6. Assassins Creed Valhalla
7. NBA 2K21
8. Red Dead Redemption II
9. Cyberpunk 2077
10. Mafia Trilogy
PC
1. The Elder Scrolls Anthology
2. Go Sims 4
3. FIFA 21
4. Biomutant
5. Far Cry New Dawn
6. Biomutant
7. WWE 2K16
8. HUNT Showdown
9. The Sims 4: Snow Getaway
10. The Sims 4 Cats and Dogs
Figures / merchandising
1. Figura Pop Marvel: Deadpool Blacklight
2. Figura Mystery Roblox
3. LEGO Minifigura: Looney Tunes
4. Figura Cute but Deadly Blizzard Serie 4
5. Peluche Dragon Ball: Bola de Dragn
6. Figura Pop Sonic: Tails Flocked
7. LEGO Minifigura: Harry Potter
8. Figura Cute but Deadly Blizzard Serie 5
9. Figura Pop Sonic: Silver Sonic 30th
10. Peluche Minecraft 30cm: Steve