Resident Evil 8: Village will arrive in stores in Spain this week being available from May 7 on PC, PS5, PS4, Xbox Series X / S and Xbox One so that as many players as possible can enjoy the latest installment of one of the sagas of survival horror most important in history.
Before launching into the endgame Capcom has posted a demo that has been reaching all the platforms in which the game will be available including the trial version for computer which has been available since last May 1 and that allows us to see the game for the first time on our computers and check if it works without any problem on our machines before purchasing the final version (in addition to testing all its mechanics and seeing the virtues of the RE Engine, of course).
But also this PC version has a particularity since a priori the Resident Evil 8: Village demo is limited to 60 minutes in which players can go through the village demo and the castle demo until reaching that limit. of time. However, computer gamers have found a way to reset this timer so they can play over and over again with no duration limit.
How to reset the Resident Evil Village demo time limit on PC
To reset the time limit of the demo on PC, follow these steps:
Step One: Disable Steam Cloud in Resident Evil 8
The first part is simple since what you have to do is deactivate the Steam Cloud system in the game for which you have to do the following:
Go to Library of Steam.
Right click about Resident Evil Village Gameplay Demo.
To select Properties.
In the general tab deactivate Save data to Steam Cloud.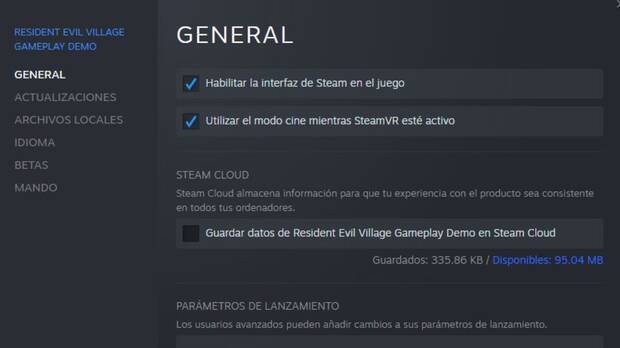 Second step: Download Steam SAM, delete files and start the reboot
The second step includes the rest and the process and begins by downloading the Steam Achievement Manager (Steam SAM) from this link. Once we have done this we follow these steps:
Erase the demo save files (by default in this path C: Program Files (x86) Steam userdata 31371081 1541780 remote win64_save).
Decompress Steam SAM.
Start Steam SAM.
Find the demo from Resident Evil Village.
Press the button Reset and give everything I know.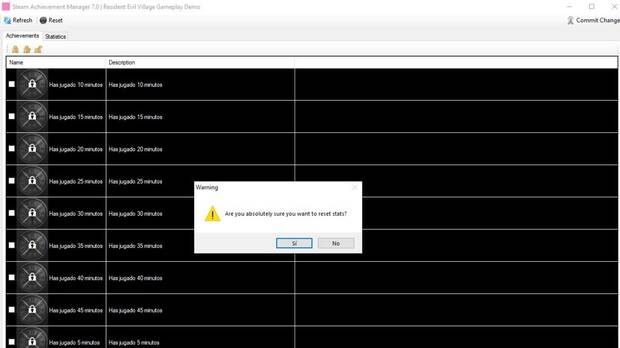 Ready, you can now re-enjoy a 60-minute demo of Resident Evil Village.