Capcom announced during the Resident Evil Showcase the demo date from Resident Evil 8: Village, to be available in all platforms (Xbox One, Xbox Series X/S, PC, PS4, PS5 y Stadia) 2 of May.
This demo will be available in Spain May 2 at 02:00 Y can be played for 24 hours, until May 3 at the same time. This is a demo that lets us play 60 minutes of the game, on the town and in the castle, being able to choose how much time we play in each of the two parts, as if we want to invest all the time only in one of the two scenarios.
PS4 and PS5 users will have early access to the demo this weekend
On the other hand the players of PS4 and PS5 they can preload the demo from the PS Store from tonight, from 02:00 a.m., and this Sunday, April 18 from 7:00 p.m. (Spanish peninsular time) to 3:00 a.m. on April 19 (in a margin of 8 hours) can play the part of the village for half an hour.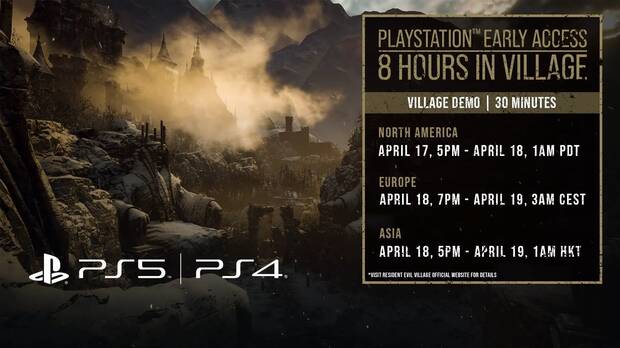 The following weekend, from Sunday, April 25 at 7:00 p.m. and for 8 hours, PS4 and PS5 users will be able to play a new part of the demo, the castle area, for 30 minutes.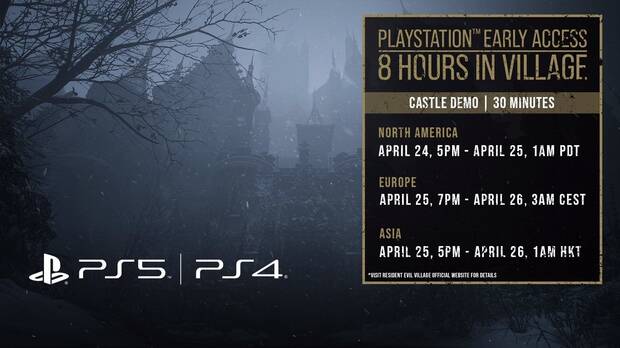 Resident Evil 8 will go on sale on May 7th en PS4, PS5, Xbox One, Xbox Series X, PC y Stadia.