Remedy is working on multiple projects right now, but we already know at least two of them: on the one hand, we found a new title of Control of "big budget" to help expand the saga; on the other hand, the study has launched a multiplayer spin-off designed for four players in PVE mode. Both projects are born as the result of an agreement with 505 Games, with which the publisher wants to continue expanding this science fiction universe.
Control: Expanding your horizons
Remedy announced this week that it has signed an agreement with publisher 505 Games in order to develop new projects that amplify the proposal of Control, a title that debuted in Spain and around the world last summer of 2019 on PC, PS4 and Xbox One. It is also available for Nintendo Switch (Cloud Version), as well as on PS5 and Xbox Series X / S. At the moment, it is unknown for which platforms they are developing these new titles, but in Remedy they are not very fond of creating games for two generations.
"We have successfully collaborated with 505 Games for over four years and we have both grown stronger in our respective fields. We are happy to extend and deepen our partnership"said Remedy CEO Tero Virtala." This new agreement supports Remedy's goals of expand our games to long-term franchises, create reference games, strengthen our business capabilities and collaborate with great partners with whom we can be successful together. "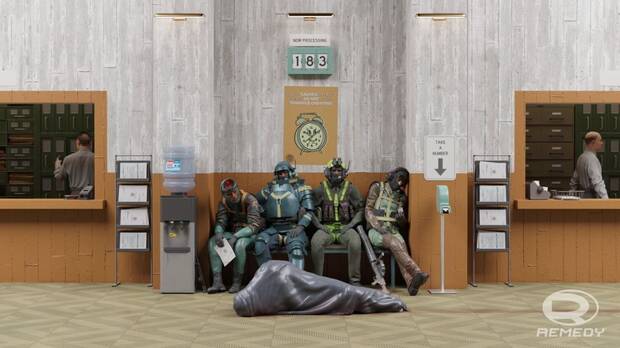 "We are happy to extend and deepen our partnership"
The truth is that the announcement of Remedy developing a multiplayer game has attracted attention: after all, the study is characterized by focusing on highly narrative proposals designed for a single player. The director of Control, Mikael Kasurinen, recognized that he could have "skepticism" on its ability to make a multiplayer game, but said cooperative games "that you can access collectively, with your friends … can shine as brightly as any single-player experience." The code name of this project is Condor, and on these lines we have left you a first image as a concept.
As for the big budget game for Control, is another element that is part of the agreement with 505 Games: a project that will serve to "further expand the Control saga". From these words we could distill that they are preparing a sequel (or prequel) more ambitious than the original game and on a larger scale. Kasurinen has not provided further details regarding this title, but noted that it is "extremely excited about the future of the franchise Control". It seems that we will still have to wait a while before learning more information.
Y Alan Wake?
Remember that Remedy also signed an agreement with Epic Games at the time and, in light of this partnership, it seems that the studio would be working on a possible Alan Wake 2. A few weeks ago we learned that the studio was soon to begin production of a triple-A game, and all the alarms pointed to the continuation of the writer's story. At the moment, Remedy has not indicated anything in this regard. Last May we also learned that Tencent had bought 3.8% of the studio. We will have to wait to discover how Remedy is solving all these projects.