Red Dead Redemption 2 was one of the most acclaimed games of the end of the last generation of consoles, releasing a year later on PC to offer us a totally futuristic title in terms of graphics, designed so that the computers of the future could take their maximum potential to lose us in their incredible world.
A little over a year and a half after it arrived on our computers now Rockstar and NVIDIA finally release one of the most anticipated features for this compatible version of RDR 2, the technology DLSS which will allow gamers with GeForce RTX graphics to dramatically increase the fps rate of the sandbox set in the Wild West.
DLSS is a texture smoothing and rescaling technology that uses artificial intelligence and specific cores of RTX graphics to carry out all these processes that result in a drastic performance improvement and in the image quality of compatible games.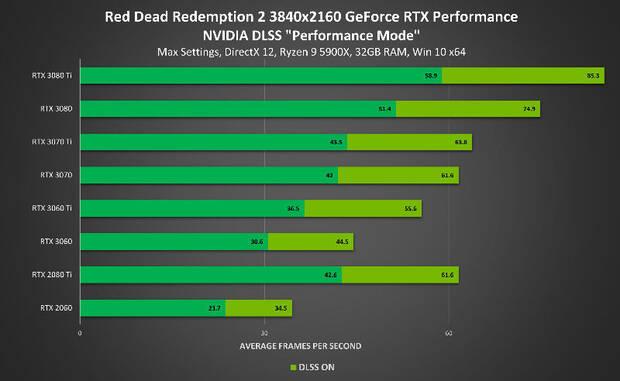 In the case of Red Dead Redemption 2 according to data provided by NVIDIA performance increases by up to 45% at 4K resolution with a computer equipped with an RTX graphics, Ryzen 9 5900X processor, 32 GB of RAM and Windows 10. To give more specific data, using a RTX 3080 Ti the fps pass from 58.9 to 85.3 while if we go to the other side, to the more "humble" graphic, with an RTX 2060 they manage to increase the rate of images per second from 23.7 to 34.5, not bad for a graphic designed for 1080p resolution.
In fact, the brand itself gives us a little guide to guide us on what resolution we can play at 60 fps and graphic configuration to the maximum depending on our graphic:
1080p and 60 fps: All GeForce RTX.
1440p and 60fps: All gamers with a GeForce RTX 3060 Ti or better.
4K y 60 fps: Players with a GeForce RTX 3070 or better.
An impressive graphic finish on PC
When we analyzed Red Dead Redemption 2 on the computer, we already told you that we were facing a game with a unique and impressive graphic finish which also came accompanied by a large number of graphic options to adapt the experience to our liking, options that today are expanded thanks to the arrival of DLSS that will allow us to enjoy better than ever the most visually impressive game of recent years. .