Red Dead Online, the multiplayer side of Red Dead Redemption 2, bring with you a string of news for Spanish players and players from all over the world who are enjoying this Wild West. Rockstar offers Power-ups and rewards in Merchant Sell Missions, Bonuses in the Trader Path Free Roam event and for assaults on gang dens, new discounts, bonuses and much more. We tell you all the details below.
The most intrepid Merchants will earn double on all sales
This week the traders are in luck. "Stay in your zone or travel enormous distances, as all merchant sell missions award double RDO $ until May 17"We read in the synopsis. Also, complete any merchant sale and you will get a 40% discount on a beginner or promise level merchant item and any dog ​​in the camp.
Brave merchants who manage to protect their merchandise from a raid by train robbers in the Free Roam Trade Route event will receive Double character and role EXP as a reward for your efforts.
Double EXP for completing Den Raids
Speaking of bandits, bandits, and rioters, if you come across a group of outlaws, all hideout raids in all five states grant the double EXP than usual.
Free Treasure Map when you buy any guide
Looking for treasure in the wrong places? This week, if you buy a guide you will receive free a treasure map of the shore of the San Luis guide you in the right direction to find a valuable stash of hidden items (you will receive it 72 hours after logging in). To top it off all guides not related to a role have a discount of 30% the next seven days.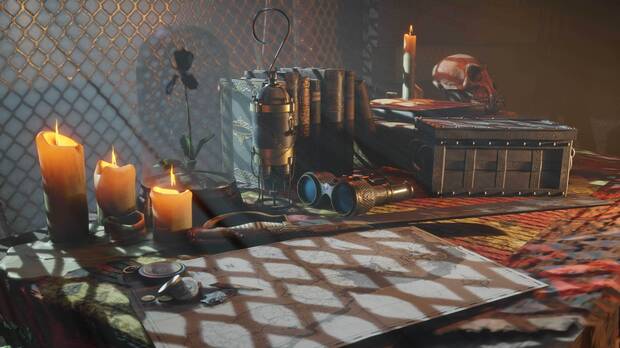 Discounts, sales and offers
In addition to the deals on guides, there are many discounts for merchants throughout the map. Players interested in taking a new approach to their career can get the butcher's table for 5 less gold bars. You can find the full list of offers below:
40% discount on all camp themes
40% discount in all stores
40% discount on the hunting cart
40% discount on all Kladruber horses
30% discount on the luxury camp
30% off all Merchant role-playing outfits
Advantages of Prime Gaming
Red Dead Online players who link their Rockstar Games Social Club and Prime Gaming accounts will receive these rewards:
Free Bounty Hunter license
The Amethyst Ornate Skin for the Free Bounty Hunter Chariot
Also, players who connect to Prime Gaming before June 7 they will get a 50% discount on the advanced camera and in a selection of outfits up to level 15, as well as 5 camouflage robes and 5 legendary animal pheromones.