Red Dead Online, the multiplayer mode of Red Dead Redemption 2, opens the doors this week to a new string of news from Rockstar. Players who have opted for the role of Bounty Hunter can enjoy this week of multiple bonuses, while we also discover limited-time clothing, double rewards, and other perks. We detail under these lines all the characteristics of this recent update:
Bring criminals to justice in Red Dead Online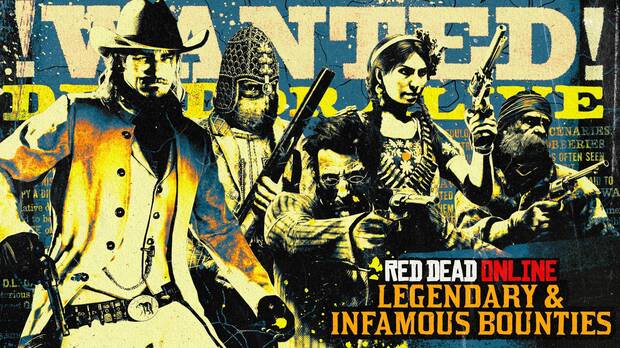 "The newspapers are full of news about crime and violence. The outlaws are unleashed and the community of Red Dead Online must take care to bring them to justice"They write from Rockstar. The Bounty Hunters will have a lot of work ahead of them … but also all kinds of rewards for doing their job.
All missions from Bounty Hunters this week (infamous and legendary fugitives included) grant 2X role XP to all who participate. The Free Mode bounty hunter events in which you face your peers, such as Human hunting O The moment of truth, will offer the 50% more RDO $ and RPG EXP next week.
"The outlaws are unleashed and the Red Dead Online community must see to it that they are brought to justice"
All celebrated bounty hunters will receive a treasure map and 100 rounds of high-velocity rifle ammunition.. Experienced bounty hunters who have reached level 30 and want to exchange their RPG EXP for gold will get Double the amount this week (1 Gold Bar for 10,000 Bounty Hunter XP, up from the usual 50 Nuggets). To exchange XP for gold, put the game on pause, go to the Progress section, display your rewards, and go to the bounty hunter award.
If you choose this week to make it official and acquire the bounty hunter license, You will get 25 throwing knives and 50 rounds of replay weapon ammo that will help you defend yourself and progress in nature. If you want to keep getting better at your craft, all Runaway Boards offer you the famous bounty hunter license for 3 gold bars less until June 7. Additionally, all level requirements for horses and weapons are removed this week (except for items unique to each role).
X2 EXP in Free Roam Competitive Challenge Events
To encourage competition, all competitive Free Roam events (such as Bow Kill, Horse, Long Gun, Short Gun, Headshot, Fishing, and Wild Hunt Challenges) grant double EXP than usual.
Limited time clothing available again
Be sure to open the catalog of Wheeler, Rawson & Co. this week to examine a selection of clothing, returning for a limited time only. See the full list of items below and stop by your local tailor to try them on before you buy.
Dillehay hat
Benbow Jacket
Knotted pants
Calhoun boots
Darning stockings
Guantes lettuces
Discounts and offers
Local grocers and merchants are offering all kinds of discounts to help those who dedicate their lives to capturing and delivering criminals. Discounts of up to 50% on all boleadoras, discounts on Breton horses, upgraded saddles and bounty hunter cart tones in the stables of the five states and much more. Take a look at the complete list and remember to check your catalog to get the best offers and clothes.
50% discount on all boleadoras
40% discount on all Breton horses
30% discount on all double shoulder bags
30% off the Famous Bounty Hunter Outfit and Emote
30% off all Bounty Hunter cart tones
30% discount on all upgraded frames
30% discount on all shirts, corsets and dresses
Advantages of Prime Gaming
Additionally, Red Dead Online players who connect their Rockstar Games Social Club account to Prime Gaming before June 7 will get a 50% discount on the advanced camera and on a selection of outfits up to level 15, as well as 5 camouflage robes and 5 legendary animal pheromones.