PlayStation 5 will have its first official pack with Ratchet & Clank: Una Dimensin Aparte, the game that arrives this Friday, June 11 to the new Sony console. The French website Station of Play has published an image of this pack in the French Boulanger store, not yet announced. with a PS5 -the model with reader-, a copy of the new Ratchet adventure and a DualSense controller. Its price will be 569.99 euros, 10 euros less than the purchase of PS5 and the game separately with official prices.
INFO StationOfPlay! The PS5 will have its pack with #RatchetAndClank this 06/11 (as I told you before)! The price should be around 569.99! The game seems to be in a physical version inside the bundle!
Sales come here ► https://t.co/FcUizSfZ2m https://t.co/lf4ImVEuYb pic.twitter.com/8b264gegCp— StationOfPlay (@StationOfPlay) June 7, 2021
The medium ensures that there will be between 10,000 and 12,000 units of these packs in France, with a new wave of consoles -with Blu-ray reader- distributed in the country at the end of June. It is expected that Spain and other countries will receive similar figures from consoles taking advantage of the launch of some novelties in these days, such as Final Fantasy VII Remake Intergrade -the upgraded version with an extra episode-, Guilty Gear: Strive or the aforementioned Ratchet & Clank.
This is the second unannounced hardware to leak the store's database in recent weeks, as Boulanger also mentions Nintendo Switch Pro -provisional name of the most powerful model of Switch- with a price of 399 euros. Although the presentation was expected for these days, Nintendo ensures that the E3 2021 event will be focused on games.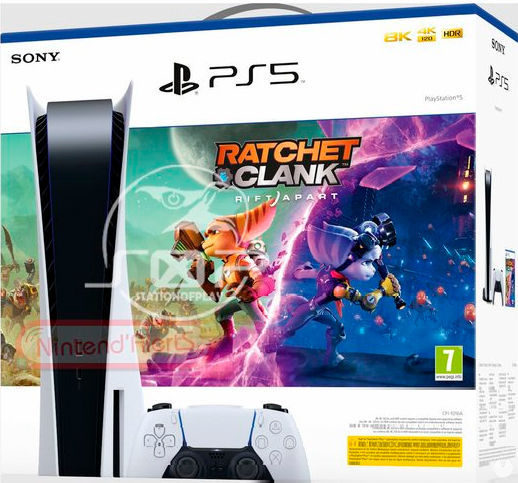 A game that takes advantage of the new generation
"Ratchet & Clank: Una Dimensin Aparte has all the ballots to become one of the most serious candidates for GOTY 2021 and in the best possible example of what awaits us in this exciting new generation that is still just taking its first steps ", we tell you in our last impressions. In the next few hours we will offer you our analysis from the Insomniac Games game.