Offered by PlayStation
Ratchet & Clank: Una Dimensin Aparte comes to PS5 the 11th of June, and in a new video published in the last hours Insomniac Games shows us a review of some of the planets that we will see throughout the adventure with Ratchet, Rivet and Clank. Savali, the Scarstu, Sargasso, Corson V or Blizar Prime rubble field, the Blizolita mines, will offer us wonderful natural landscapes and futuristic cities with their own atmosphere and architecture. Are you ready to explore this universe?
Corson V, the city Nefarius, is the vision of a planet dominated by Nefarius, worshiping his image. Insomniac Games proposes us to walk its streets, talk with the inhabitants, admire the neon lights at night and use the race through the walls to progress in our mission. But if we prefer natural environments, Sargasso, the outpost L51 offers forests, races and gigantic enemies, while Torren IV, the fields of Molonoth, is a rocky desert with rails like a roller coaster.
A separate dimension bring new planets, new versions of known zones of previous Ratchet & Clank and alternate worlds. This connects directly with their story: Ratchet and Clank will travel between dimensions to fight against the evil emperor of another reality, and thus they will meet Rivet, a new playable protagonist. These dimensions can bring drastic changes to worlds we already knew, new dangers and other surprises, all reinvented to the graphical power of PlayStation 5.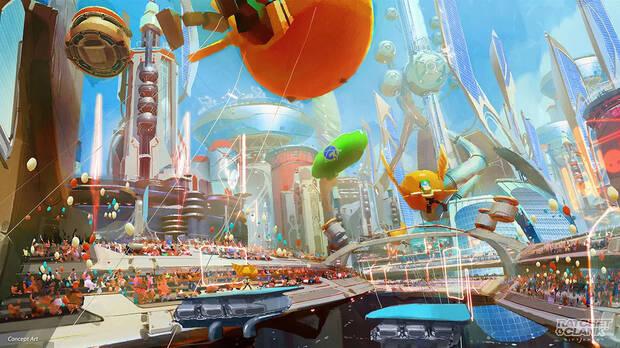 A few instantaneous world changes
The leap between dimensions take advantage of the PS5 SSD to change from one world to another in a blink. Whether with positional changes on the battlefield to surprise our rivals or to repair planetary gaps with multidimensional puzzles, the transition from one zone to a completely different zone will be almost instantaneous. You have never crossed the galaxy of Ratchet & Clank at such speed.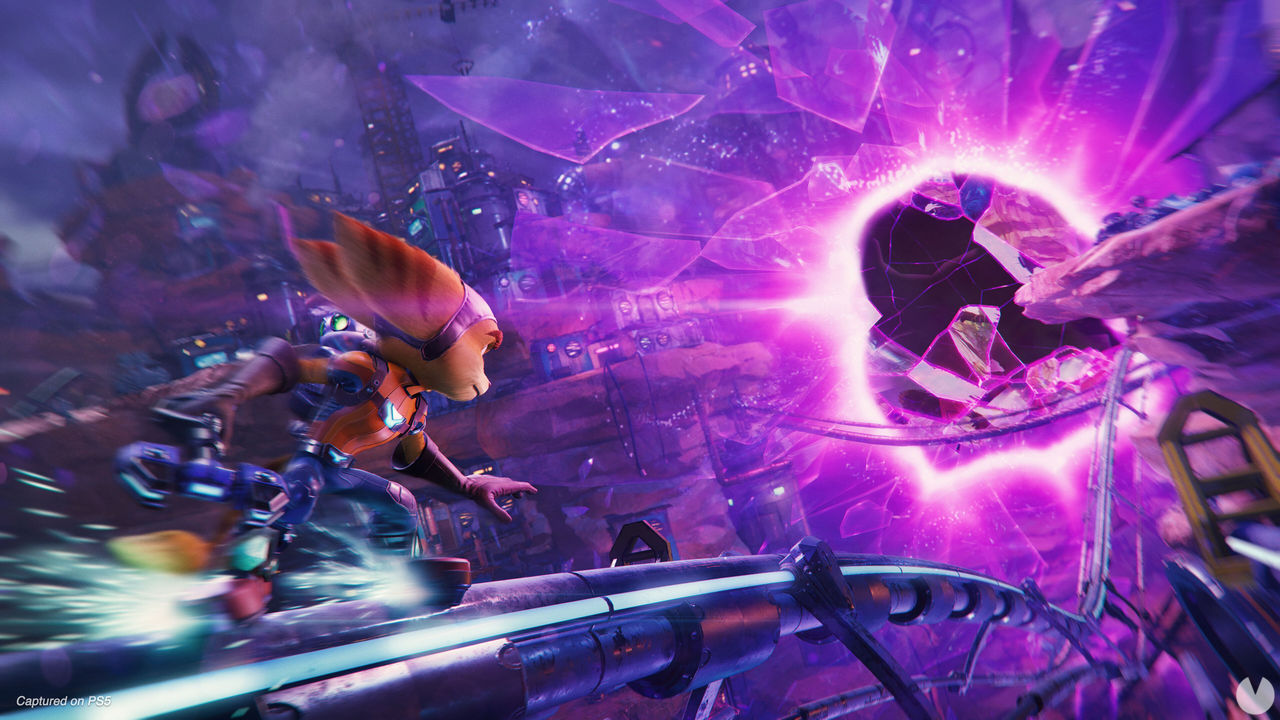 These planets will look better than ever with game modes at dynamic 4K resolution, HDR, ray-tracing effects and, if we wish, 60 images per second with its high-performance mode designed for precise and fluid gameplay during the most frenetic action.
Graphics aren't the only benefit on PS5. These worlds will be more alive thanks to the 3D space environments, allowing you to hear the sound that comes in all directions, every enemy shot, explosion or effect of nature thanks to the Tempest 3D AudioTech in compatible headphones. The high fidelity sound is complemented by the optical response of the DualSense, which reinforces the vibrations of the action, textures of the worlds and, with the adaptive triggers, the feel of each weapon.
Pre-order the Digital Deluxe Edition now on PlayStation Store
Ratchet & Clank: Una Dimensin Aparte will go on sale in a standard edition in both physical and digital formats for 79.99, and will also be available only in PS Store a Digital Deluxe Edition for 89.99 which includes the game and the following extra content:
Five armor sets (Imperial armor, Trash armor, Android armor, Rebel armor, Hacker armor)
Photo Mode Sticker Pack
20 of raritanio
Digital soundtrack
Digital Picture Book
In-game enhancement materials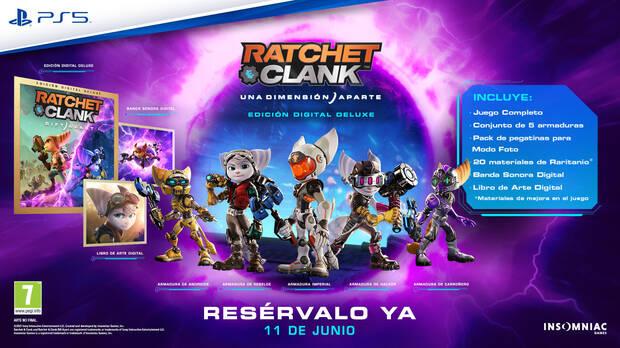 In addition reserving the game on PlayStation Store, either the standard edition or the Digital Deluxe, you will also get the early unlocking of two in-game extras: Pixelator Weapon and Carbonox Armor Set.