More and more studies recognize accessibility as a fundamental value to make their games reach more people; The last big title to offer options tailored to different types of audiences is Ratchet and Clank: Una Dimensin Aparte, which will arrive on June 11 exclusively for PS5 both in Spain and the rest of the world. Insomniac Games, responsible for the project, have detailed today the accessibility options available to this new installment.
They have done it through their official Twitter account, where they have ensured that "Developing accessible and inclusive games for people from a wide variety of backgrounds is a critical mission for Insomniac Games". That is why Ratchet and Clank: Una Dimensin Aparte allow the public to modify some aspects of the gameplay so that they can adapt it to their way of playing.
🔥Fire Mode Change the Fire Mode from Default, Hold or Toggle.🔥
🎯Aim Mode Sets the Aim action as either toggled on/off or a button hold.🎯
🔫Auto Aim Turns the camera towards the nearest enemy when firing.🔫 pic.twitter.com/z7nmbfV0sX— Insomniac Games (@insomniacgames) May 20, 2021
Accessibility options in gameplay, visual effects, sound, controls …
In general, the new Insomniac game will have five levels of difficulty at launch, but in the accessibility menu more than 70 specific aspects can be configured to refine the experience. For example, Ratchet and Clank: Una Dimensin Aparte allow you to choose between several types of aiming and firing modes to make it easier for the enemy to stay in the center of the reticle or directly to be able to aim automatically to rival. Also have assistance options that once activated will help us to carry out other actions automatically.
Accessibility also concerns visual effects, so Ratchet and Clank: Una Dimensin Aparte have a wide range of options to alter game graphics with more contrast, an optional light that highlights the protagonist so as not to lose sight of him, as well as others for each element, character or collectible on the stage. Also Camera shake or blur effects can be disabled to avoid dizziness.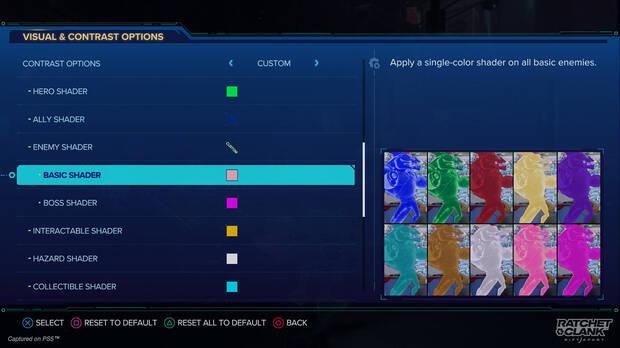 After all, Insomniac Games has made available to the public a whole range of accessibility options that can be modified to taste to adapt the game to each person's needs. In fact, a shortcut menu that can be used both for game mechanics, such as photo mode, and to quickly activate or deactivate accessibility options. Finally, It has been confirmed that the buttons on the remote will be fully customizable.
Ratchet and Clank: Una Dimensin Aparte launches June 11 on PS5. You can read our impressions here.