PlayStation has shared more details of its strategy to grow during the current generation, with the intention of surpassing the success of PS4. Sony believes the PS5 will perform even better thanks to the loyalty of its community, a larger audience thanks to female players, and expansion outside of established territories. -Europe, the United States and Japan-, like China. Jim Ryan has also discussed the opportunity to release games on other platforms to expand PlayStation Studios, cloud gaming, and virtual reality.
After launching PS5 last November and reaching 7.8 million consoles so far, Sony expects to achieve 50% of the console market – versus 45% for PS4-. Citing data from IDG, they expect the console games market to grow to $ 88 billion in revenue by 2025. The data indicates that the age of PS4 and PS5 players is increasing since the first PlayStation, so these players accompany every generation of Sony. It is also cited that 51% of PS5 users are women, compared to 18% of PS1, and that in 2000 only 1% of their income came from outside the US, Europe and Japan; in 2010 it went up to 5% and is currently at 10%. They hope to grow in South America, Africa, India, China, Russia and Eastern Europe.
Another of the graphs states that the standard edition of PS5 -with Blu-ray disc reader- will be profitable next month, which means that the manufacturing costs will be lower than the selling price; There is no mention of PS5 Digital Edition. In any case, the weight of the sale of consoles is currently less: in 2013, 48% of the income came from consoles, while in the last fiscal year it was 20% -the remaining 80% are games, services and downloads-.
Sony foresees the best "second year" of a console
Sony believes that the next fiscal year will be the best "second year" a console has ever had, surpassing the 14.8 million sales that PS4 had in its second year. For its fiscal year 2022 the goal is to have the best sales in a year for a PlayStation, surpassing the fiscal year of 1998 with 22.6 million PlayStation.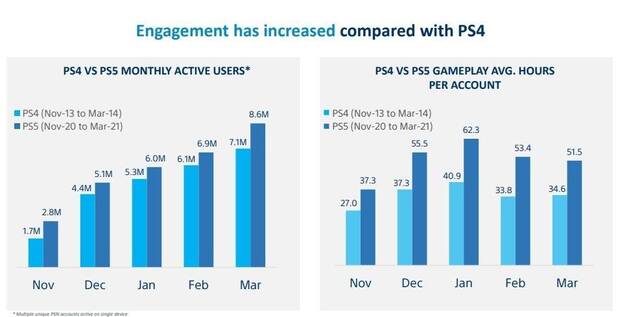 Regarding the engagement or user engagement, PS5 is off to a good start: the new console achieved 8.6 million active users in March 2021 -There are consoles with several accounts, hence it exceeds sales- compared to 7.1 million on PS4, despite the latter having more than 100 million consoles sold.
Another topic that is discussed is the impact of pandemic control, since COVID-19 undoubtedly helped the entire video game industry -and video in streaming-, but with vaccination momentum will be lost. How much? It is what is not known. Sony expects that leisure time with video games will decrease, and in the United States – with advanced vaccination – the decrease in weekly active users has fallen by 3.3%, while in Germany it does so by 5.3%.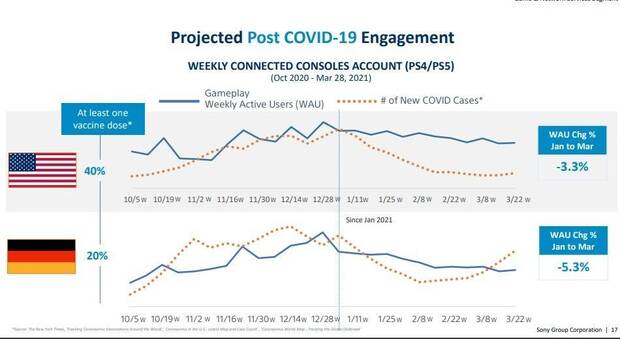 Not all information focuses on PS5. Sony also wants PS4 to offer 70% of the revenue from the PlayStation Store – instead of 95% in fiscal 2020 – and a large part of this money comes from games free to play. In 2016 the revenue from these free games represented 5%, and in 2020 they were 25% thanks to Fortnite, Call of Duty: Warzone, Apex Legends, Rocket League Y Genshin Impact.