PS5 y Xbox Series X/S have come on the market at a difficult time, and that is because the lack of stock has resulted in potential buyers not yet being able to purchase their next-gen console. Although the situation is delicate, Sony reported that PS5 has already reached 7.8 million units sold and that it is the fastest selling console in history. A new report has detailed the sales figures for the new consoles during the first quarter of this year.
PS5 has outsold Xbox Series X / S this quarter, although Switch still leads
As can be gleaned from the Ampere Analysis, PS5 has sold a total of 2.83 million consoles compared to 1.31 million for Xbox Series X / S during the first three months of the year. However, the clear winner in terms of sales figures is Nintendo Switch, which has reached a whopping 5.86 million consoles, to add to a total of almost 30 million consoles sold in Nintendo's last fiscal year.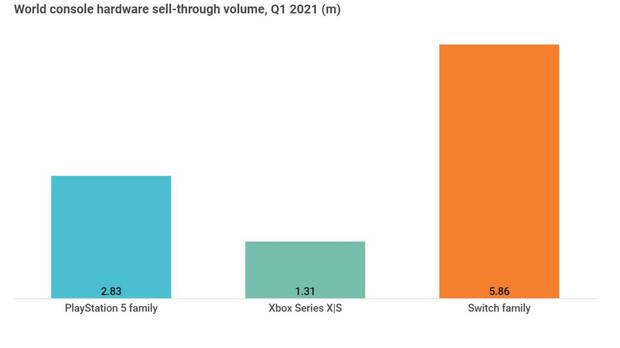 Piers Harding-Rolls, author of the report, wanted to detail the why of the figures. The second quarter of last year Nintendo Switch it was very good due to the release of Animal Crossing: New Horizons and the numbers are likely not that high for the quarter of this year. However, he wanted to emphasize that the sales of Nintendo Switch during this first quarter they have raised a 12% compared to the quarter of last year.
About PS5 y Xbox Series X/S, says both consoles are experiencing supply constraints and unpredictable availability. It is estimated that these conditions will continue for the remainder of 2021 due to high competition for components and the difficulty that companies have to increase production. Despite this, Jim Ryan promised that Sony would increase production of the PS5 starting this summer.