Offered by GAME Spain.
The GAME chain of stores prepares to receive Dying Light 2, on sale December 7, and does so with an exclusive gift for reservations: an additional content DLC that includes unique aspects for the game. If you want to survive in this dangerous world you will need all the help possible, and that is why when reserving any edition of Dying Light 2 in GAME you will be able to take the "RELOAD" DLC containing the following additional content:
Attire "RELOAD".
Weapon skin "RELODAD".
Appearance of paraglider "RELOAD".
Pre-order Dying Light 2 now at GAME and get the exclusive gift of a DLC with additional content.
The virus has won and humanity's last city is on the brink of collapse. After 15 years since we lost everything, the weight of responsibility so that our species does not fall will be placed on your shoulders and you will have to fight with the infected using your agility, quick reflexes and ingenuity, in addition to a lot of weapons. resources and tools. Dying Light 2 mix survival, open world and parkour exploration to offer you an incredible experience.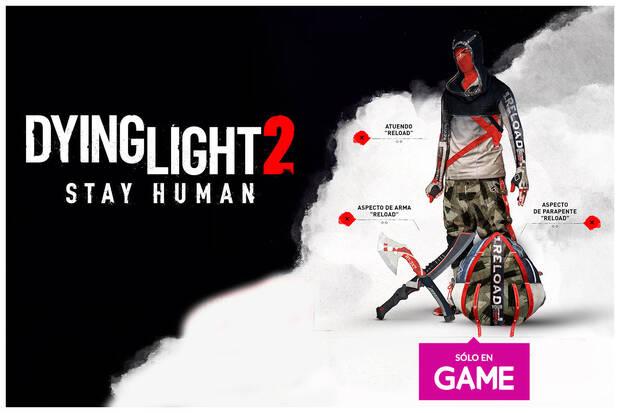 And other postapocalptico
Techland has put great emphasis on offering players a "scary and challenging" night – you know this is the most dangerous time of the day in the series. Will also be more ambitious than ever, with RPG elements where decisions will change the world. The adventure takes place 20 years after the first game, although it is not necessary to play this one to follow the plot, when humanity has lost the war against the virus that transforms humans into monsters that, according to the developer, are not zombies.
The study promises a variety of situations in a city divided into two large regions and several zones that has been designed more vertically than horizontally, which will give rise to a "multi-layered open world exploration", full of challenges.