PlayStation I would be interested in offering more titles that follow the game-as-a-service strategy going forward. We recently told you that Jim Ryan, actual CEO of Sony PlayStation, would be interested in bringing some of the most iconic sagas of PlayStation to mobile devices. Since Sony, indicate in an official report that they plan to develop experiences focused on the game as a service both on consoles and on other devices. The same report revealed that Uncharted 4: A Thief's End could receive a port in order to PC coming soon.
PlayStation will follow the strategy of selling games as a service, according to Jim Ryan
Sony has emphasized that MLB The Show 21, the baseball video game, had very remarkable gains through the PS Store from the United States. The video game allows players to buy random card packs to try and build their own team through the game. in-game currency called Stubs. These coins can be earned and purchased to obtain the packages. Regarding this issue, Jim Ryan commented: "We intend to leverage our growing experience and ambition in gaming as a service space to complement our efforts in the narrative titles that PlayStation fans know and love."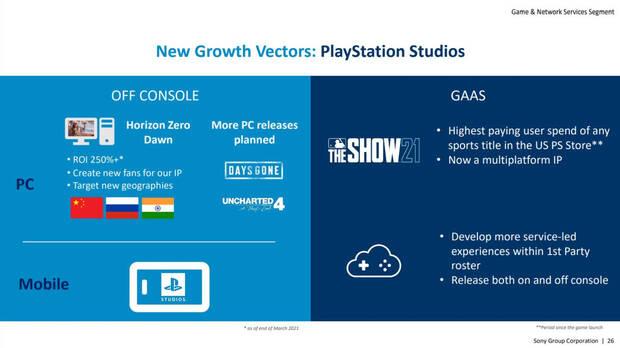 Destruction AllStars is another of the recent releases of Sony gambling as a service, although it has not been very successful. Ryan added to his statements that free games backed by microtransactions accounted for more than 25% of total PS Store consumer spending during Sony's business year, which ended in March 2021. Are you in favor of PlayStation developing more games as a service?