On June 24, Konami published by surprise New Football Game, a technical test to test the servers and connectivity of its next football game that, in theory, was going to be eFootball PES 2022 but what, finally, be called simply eFootball, ending with the name of one of the most important football game licenses in history with which many of us have grown up playing with our console.
As he had announced through the technical test New Football Game, the Japanese study has presented today its new simulator of the beautiful game which, we repeat, is simply called eFootball, a game free to play that will be launched during the fall on a date yet to be confirmed and to arrive at PS5, XSX/S, PS4, Xbox One, PC, iOS y Android, with a special version for the new generation of consoles.
Along with the announcement we have received the first official thriller in which they discover what was going to be the new PES that, according to Konami, changes its name because "the end result has been even more impressive than we originally envisioned. We have crossed the border of PES, entering a new world of virtual football. To usher in this new era, we have decided to abandon the "PES" brand for "eFootball!"
Free and multiplatform
One of the details that will mark eFootball the most is that we are facing a Completely free game that reaches multiple devices so that all lovers of the ball can enjoy the game. As you have seen above, the title will reach consoles, computers and mobile devices and together with its launch in early autumn there will be intergenerational crossplay between the consoles of the same brand while later we will be offered total crossplay between PS5, PS4, Xbox Series X / S, Xbox One and PC.
With eFootball, were not just changing a name were changing football gaming.#eFootball is Free-to-Play (F2P), meaning everyone can experience our game across console, PC and mobile – a fair and balanced experience for all players.#SetFootballFree https://t.co/5531iazNTu eFootball (@play_eFootball) July 21, 2021
With Unreal Engine 4 and a new motion capture system
eFootball I will launch using Unreal Engine 4 from Epic Games, offering graphics "avant-garde and an incomparable immersive experience"on PS5 and XSX as well as versions compatible with the rest of the platforms previously announced, offering a similar experience to all players, although obviously the new consoles will enjoy better graphics.
Konami also tells us about a new animation system with a technology called Motion Matching which is in charge of selecting in real time the most suitable animations for each movement, control or shot of the player, provided four times more animations than in Pro Evolution Soccer for a more realistic movement. This new animation system is used on all platforms, including current and past generation consoles, PC and mobile devices.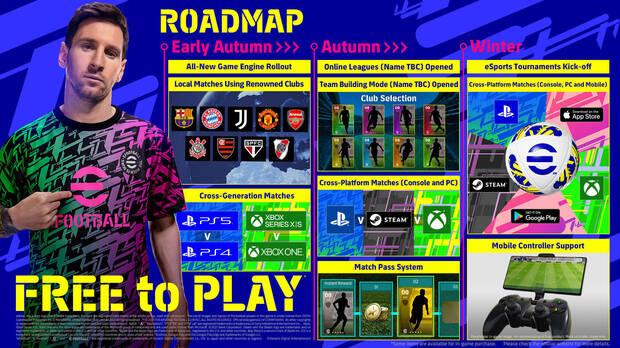 Constantly updating and new content
Another of the key points of eFootball is that we are going to meet a game that will be constantly updated and, in fact, it is something that we will notice during its first weeks of life since when the title is released for free and digitally, we will have local matches between different teams such as FC Barcelona, ​​Juventus, FC Bayern or Manchester United or other teams in addition to Intergenerational matchmaking (PS5 players vs. PS4 and XSX / S players vs. Xbox One).
Later during the same otoo the Links Online in which we can choose our favorite team and compete in a global league, the new Team Building mode (with a name yet to be confirmed replacing MyClub) in which we can build our dream team by signing the players we want. In that update that will arrive weeks after launch as well The crossplay between consoles and PC will be released as well as a system called Match Pass that allow us to get objects and players playing eFootball.
Finally, in the roadmap of the simulator we also find an update during the winter with the following content:
Start of professional and amateur eSport tournaments
Full cross-platform matchmaking on all available platforms, including mobile, via compatible control
Adding New Mobile Controller Support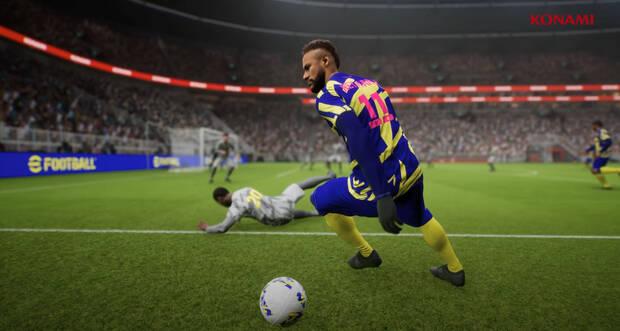 Messi and Neymar sponsor eFootball about which we will have more details in a few weeks
Konami has also announced that Messi and neymar Jr will "sponsor" eFootball being its world ambassadors while Iniesta and Piqu have participated in the development of the game as official advisers of the mechanics of attack and defense respectively.
During the next weeks the study nipn will publish new details eFootball among which we will find partner clubs, licensing and a long list of news. We also leave you with their first images below.