Hello Games has announced through its official website that No Man's Sky has been updated today to your give it 3.3, a new free update that is now available on PS5, Xbox Series X / S, PS4, Xbox One and PC under the name 'Expeditions'. It is so called because, precisely, the main novelty that this patch brings is a new game mode that allows us to carry out expeditions together with all the other members of the community.
As explained in the article, No Man's Sky: Expeditions includes this new game mode that consists of launching expeditions as events so that the community can carry out a kind of shared trip. These expeditions will begin on a predefined planet and continue through a series of milestones that we will have to visit in whatever order we want. As we participate in them and we visit each new goal "We will unlock rewards, meet other players and discover new ways to play".
Phases, missions, rewards and other improvements
Each expedition will be divided into phases and these, in turn, into milestones: among them we will have missions such as building a new settlement, registering a certain number of creatures or exploring a certain number of the planet on foot. When we manage to overcome these objectives, we will be rewarded with new patches that we can save in an album as a library of achievements. In addition, each completed phase will also grant us a new unique reward and those who complete the expedition 100% will have a last grand special prize.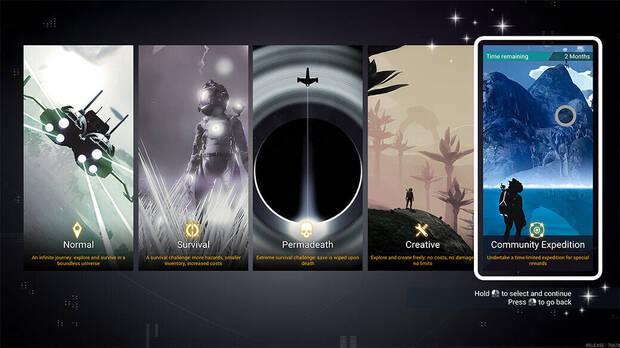 Along with this great addition, No Man's Sky: Expeditions brings with it other changes to the game as a new redesign for the interface, which now has support for 4K resolution, improvements to the character viewer, changes in space station missions, improvements in combat against Sentinels, redesigns of certain ships, integration with Twitch Drops, cross-play for the discovery database, new markers, and a host of more details that give the game a better finish.