Nintendo today presented the new Switch model, a revision of the console whose main novelty is an OLED screen that is larger and higher quality than the original. The announcement revealed all the technical details of Nintendo Switch Model OLED, but there is something that we still do not know: its price in Spain. However, according to a chain of stores in Spain, the price at which the new console will go on sale next October 8 will be 349,99 euros.
In this way, it is confirmed that the new version of Switch will maintain the same price as in the United States, 349,99 dlares, without any type of increase to the currency exchange as usual in these cases. It should be remembered that the modelo original de Nintendo Switch was put on sale in Spain for a price that ranged between 319.99 euros and 329.99 euros, being 330 euros the official market price as of today. For its part, Nintendo Switch Lite has a recommended price of 220 euros today.
New screen, more internal memory and other news
As we said before, the main novelty of the Nintendo Switch OLED model is precisely the one that gives its name to the hardware: Your new screen not only has this technology that gives better image and color quality, but it is also larger to reach the 7 inches, something that also supposes a considerable reduction of the black borders with respect to the standard model.
The standard version of the Nintendo Switch features a 6.2-inch LCD panel, a technology that offers poorer image and color quality. Those, the resolution remains the same in both versions: 1280 x 720 pixels in both the original model and the OLED.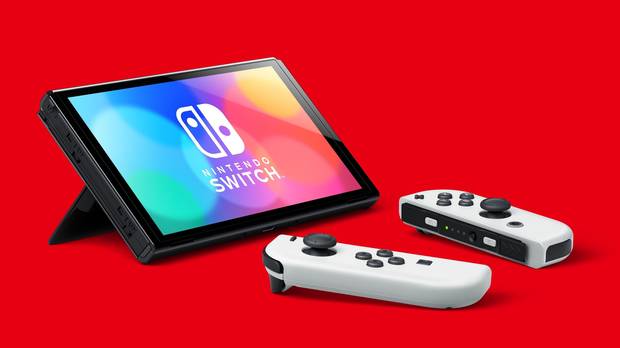 Other aspects of the design that have been improved have to do with its external appearance, which now features a new adjustable width bracket, and a new dock whose main novelty is the incorporation of a LAN port that provides a more stable cable Internet connection. Regarding its internal technical specifications, the console is practically the same as the normal Nintendo Switch, with the difference that it has a 64 GB internal memory compared to 32 GB of the original. Its integrated speakers have also changed, resulting in improved sound.