Nintendo has presented the financial results at the end of its fiscal year, which ended on March 31, and in them it has shown to continue in good shape with an operating profit of 16,590 million and a total of 28.8 million Switches sold only in this last exercise. In addition to these main data, the official document of the company also reflects details that consolidate the perception that Nintendo is going through a good streak.
For example, the company specifies in its report that the Nintendo Switch catalog already has 36 video games that have exceeded one million units sold. 22 of them are their own games, while 14 are third-party developments. Among the titles created and published by the Japanese company, half, or 11, have already exceeded 10 million copies sold.
22 Nintendo Games That Have Sold Over A Million On Switch
These are the Switch games that have sold more than 10 million of units:
Mario Kart 8 Deluxe

35.39 million

Animal Crossing: New Horizons

32.63 million

Super Smash Bros. Ultimate

23.84 million

The Legend of Zelda: Breath of the Wild

22.28 million

Pokmon Sword/Shield

21.10 million

Super Mario Odyssey

20.83 million

Super Mario Party

14.79 million

Pokmon Let's Go, Pikachu/Eevee

13.28 million

Splatoon 2

12.21 million

New Super Mario Bros. U Deluxe

10.44 million

Ring Fit Adventure

10.11 million
And these are the games from the hybrid catalog that have exceeded one million copies sold:
Super Mario 3D All-Stars

9.01 million

Super Mario 3D World + Bowser's Fury

5.59 million

Luigi's Mansion 3

9.59 million

Clubhouse Games: 51 Worldwide Classics

3.14 million

Paper Mario: The Origami King

3.12 million

Hyrule Warriors: Age of Calamity

3.07 million

Pikmin 3 Deluxe

2.04 million

Super Mario Maker 2

7.15 million

Xenoblade Chronicles Definitive Edition

1.52 million

Mario Kart Live: Home Circuit

1.27 million

The Legend of Zelda: Link's Awakening

5.49 million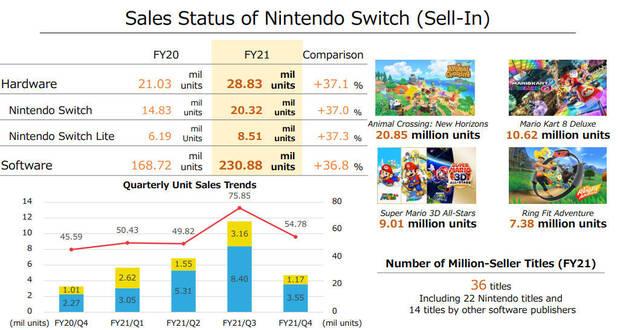 As you see, in these lists only reflect Nintendo video games, leaving out those 14 titles that have exceeded a million copies sold but are published by other companies. It should also be noted that games like Luigi's Mansion 3 are very close to reaching 10 million units sold, so this list may change for the next fiscal year of the Japanese company.