* Sponsored content.
Nintendo Switch players are in luck with the new offers in the Nintendo catalog that Your Video Game Store brings, with discounts on Animal Crossing New Horizons, Super Mario 3D All Stars, Super Mario 3D World, Super Mario Maker 2 Y Mario Tennis Ace. Now you can get them for only 49.99, free shipping. The promotion is available while stocks last, so hurry up if you are missing any of the games in your collection.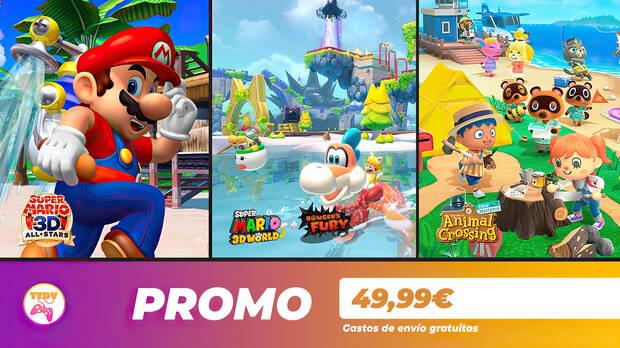 TTDV offers for Nintendo Switch
ANIMAL CROSSING NEW HORIZONS. Find it here. Get hold of the mythical video game and enjoy all the news of the month of May: the maze of the first of May, the day of the museums, the change of climate, the last month of spring bamboo, the new objects on the TeleNook and the incredible new critters, fish and sea creatures.
SUPER MARIO 3D ALL STARS. Find it here. 3 games gathered in one stellar collection! Nintendo released this special edition that includes Super Mario 64, Super Mario Sunshine Y Super Mario Galaxy to celebrate the 35th anniversary. This collection will be available in all stores while stocks last, so don't miss out on this unique opportunity to get hold of it.
SUPER MARIO 3D WORLD + BOWSERS FURY. Find it here. Mario, Luigi, Peach and Toad are waiting for you to join their mission to save the fairy kingdom. If you've already played the WiiU video game, this installment is going to blow your mind. And if you are one of the new ones, even more! An excellent quality video game that is already becoming an essential part of the series. Plus, if that wasn't enough, you can help Bowsy on an entirely new adventure: Bowsers Fury!
SUPER MARIO MAKER 2. Find it here. This sequel to the first Super Mario Maker exceeds our expectations. Use your imagination to get the content to expand. And if you prefer, you can play the fun story mode and take advantage of the possibilities of the multiplayer mode to have a laugh with your family or friends.
MARIO TENNIS ACES. Find it here. Choose between 15 characters, each with their own particular characteristics and play with special strokes, with rackets that deteriorate and break, with time control and the possibility of aiming with more precision. Try the story mode and experience tennis to the fullest. You can play with up to 4 players.