NieR: Automata was launched on the Windows Store and on the Game Pass subscription service for PC this past March 18, offering an edition of the game different from what is available on Steam. This recent release consists of a port of NieR: Automata Become as Gods Edition of Xbox One, which arrives clean of bugs and technical problems … contrary to what happens with the title of Steam, which was launched in March 2017, and that since then has different types of problems that have never been solved. That is why PC gamers are unhappy with the performance issues of Nier: Automata, compared to the more polished version to hit Xbox Game Pass. As a sign of your discomfort, have started bombarding the game with negative reviews on their Steam page.
NieR: Automata faces anger from gamers over his Steam version
Though NieR: Automata continues to enjoy a "very positive" rating on Steam, in the last three days it has been discovered facing a whole wave of criticism from these users. Players ask that the version of the game that is available on Steam matches the one that has been released on Xbox Game Pass / Windows Store, and so can get rid of many bugs and technical problems that affect the title on the Valve platform.
While the Game Pass version seems to run smoothly and without major mismatches, Steam's still plagued with bugs These include frame rate and game control issues. That is why users of the Valve store have requested that the edition Become as Gods.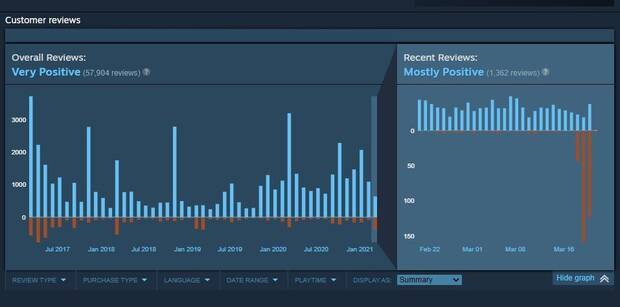 Steam players also ask for a bug-free version
"NieR Automata It's amazing, one of the best games I've ever played in my life, but I cannot recommend the Steam version to anyone as long as it is not fixed and up to date like the Microsoft version"said one of the users." As it stands now, I cannot, in good conscience, recommend this game to anyone on this platform, not when the Microsoft Store / PC Gamepass version exists and is much higher"says another.
Until now, Square Enix has not publicly addressed player comments. The title has reached Microsoft platforms after having exceeded 5.5 million copies sold worldwide. The game starring 2B came to Xbox Game Pass on PC accompanied by The Evil Within, another title that has also seen its performance improved on Microsoft platforms.