Fortnite: Battle Royale has presented in the current Season 6: Instincts once again a collaborative event with Rocket League of Flame-Branch for Spain and the rest of the world, to start this next March 25 to celebrate the farewell to season 2 of the popular car game. This time we can complete challenges Specials in Rocket League to earn exclusive rewards in both games. Below we detail all the news.
New Llama-Rama event for Fortnite and Rocket League: dates and times
Fortnite and Rocket League join forces to celebrate another Flame-Branch event and send off Rocket League season 2 in style!
The new March 2021 event between Fortnite and Llama-Rama's Rocket League will take place in the following dates and schedules:
Available from: Thursday, March 25 at 5:00 p.m.
Until the: Friday, April 9 at 10:00 p.m.
Challenges and rewards of the Llama-Rama event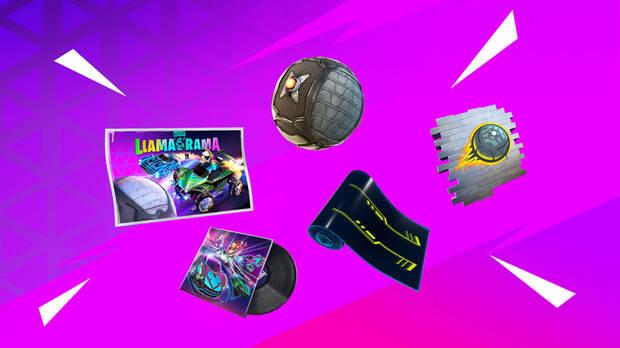 Then you can see the full list of challenges that will be activated in Rocket League from March 25 and the rewards that we can earn by completing each of them (available until April 9):
Challenge 1: The Flame-Da
Description: Play three games online.
Fortnite Reward: Battle Ball graffiti.
Rocket League Reward: Flame DJ ornament.
Challenge 2: Bell Call for All
Description: Earn a total of 500 points in online matches.
Fortnite Reward: Flame-Branch loading screen.
Rocket League Reward: Bell's player anthem calls.
Challenge 3: Beyond the Flame
Description: Achieve five goals, assists or saves in online matches.
Fortnite Reward: Theme of the room Everyone to dance!
Rocket League Reward: Llama DJ (Octane) sticker.
Challenge 4: Masterful Umbrella
Description: Achieve five clearances and crosses in online games.
Fortnite Reward: Envelope Close-up.
Rocket League Reward: Wheels – Masterful Umbrella.
Challenge 5: Extra-ordinary
Description: Play a game online on any of the bonus modes playlists.
Fortnite Reward: Turbobaln backpacking accessory!
Rocket League Reward: Player Title: Extra-ordinary.
Challenge 6: All for the win (reward only for Rocket League)
Description: Win 10 games online (repeatable).
Rocket League Reward: 20,000 PE.
Low Octane Emote Coming Soon to Fortnite
Epic Games has also confirmed that it will be available on the object shop Fortnite's new gesture Low octane, consisting of neither more nor less than a miniature of one of the original cars from Rocket League. This gesture can be purchased with V-Bucks from March 26th at 01:00 CET.
Kaskade's new concert at Fiesta Magistral
The Flame-Rama is back! 🎉

There will be rewards in Fortnite and Rocket League to celebrate the end of Season 2 of @rocketleague.

And it wouldn't be a party without some music, so we invited @Kaskade to the main stage at Fiesta Campal! https: //t.co/djuZPO4iJY pic.twitter.com/IrDpPA0r8X Fortnite_ES (@Fortnite_ES) March 22, 2021
Finally, it should be noted that at the same time that this Llama-Rama event is being held, in Fortnite we will have Saturday March 27 a new concert in the Master Party of the artist Kaskade (you can find out all the details in another piece of news we have shared) The concert will have until three sessions different and will be carried out in tribute to the theme of season 2 of Rocket League. When the concert is over, an exclusive preview of the official trailer of season 3 de Rocket League.
Fortnite is a Battle Royale that is free for PC, PS4, Xbox One, Nintendo Switch and devices Android e iOS, you can read our analysis and visit our complete guide to know the best tips and tricks.