The basketball simulator from the publisher 2K Games and the developer Visual Concepts is back for another year with NBA 2K22, to get to the stores on September, 10th para PC, PS5, PS4, Xbox Series X/S, Xbox One y Nintendo Switch en three editions different with different cover stars, including Luka Dončić, Kareem Abdul-Jabbar, Dirk Nowitzki y Kevin Durant.
The standard edition costar 69,99 on PS4, Xbox One, Nintendo Switch and PC (in Spain only the computer digital edition will be distributed) and for 74.99 on PlayStation 5 and Xbox Series X / S. There will be a Pack Digital Multi-Generacin what to cost 84,99 and allow access to the standard edition of PS5 and PS4, or Xbox Series X / S and Xbox One.
To them we will have to add a 75th Anniversary Edition of the NBA, which celebrates the North American basketball competition. Cost 99,99 on PS5, PS4, Xbox Series X / S and Xbox One; It will also be released on Nintendo Switch and PC, but only in digital format, and at the moment, without a price for Spain. It includes, in addition to the versions for the same family of consoles, the following digital extras:
100,000 Virtual Currencies
10,000 MyTeam Points and 10 MyTeam Tokens
10 Boosters for each type of MyCarrera skill and the Gatorade Boost
3 Sapphire MyTeam cards (Abdul-Jabbar, Durant and Nowitzki) and 22 MyTeam packs
The Jordan Shoe item for MyTeam and a Coach Card Pack for MyTeam
A collection of clothing and accessories for MyPlayer: 2 Luka Dončić jerseys, 2 NBA 75th anniversary jerseys, a backpack, an armband and a custom skateboard.
Cover basketball players to be the two-time NBA All-Star Luka Dončić in the Standard Edition and the Multi-Generation Digital Pack; while in the 75th Anniversary Edition will appear Kareem Abdul-Jabbar (Hall of Famer, six-time NBA champion, six-time MVP, and all-time scoring leader), Drik Nowitzki (14 times All-Star, NBA champion and MVP) and Kevin Durant (11 times All-Star, MVP and two-time NBA champion). The cover of the anniversary edition and the multi-generation pack are designed by Charly Palmer (American Must Change).
The first WNBA cover stays in the United States
There will be two editions of the game that will not reach Spain. Players in the United States will be able to purchase a Standard Edition from GameStop and EB Games where it appears on the front page. Candance Parker (Chicago Sky), champion of the WNBA and six times All-Star; It is the first time that 2K Games has put a woman on the cover of the series. On the other hand, the Japanese will be able to buy a Standard Edition with Rui Hachimura (Washington Wizards) on the cover.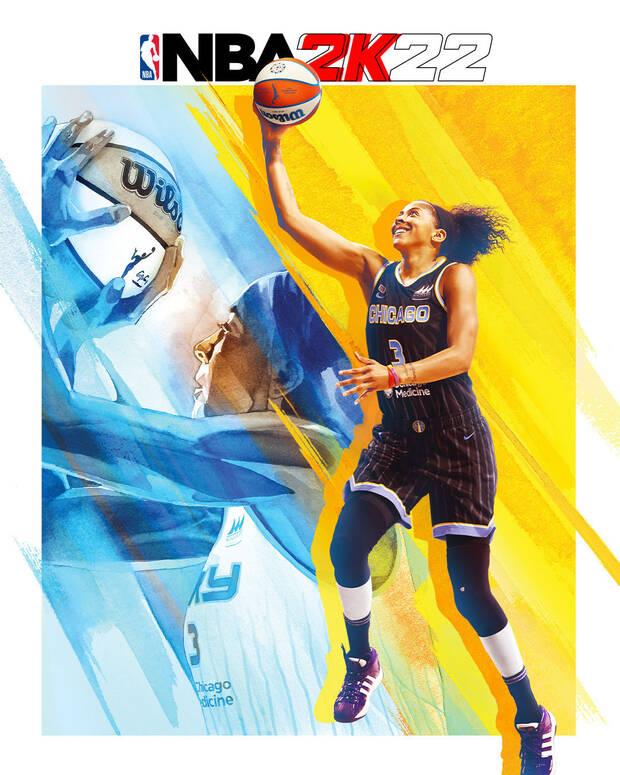 Visual Concepts realizar more game announcements in the coming weeks: your news, soundtrack, content updates "and much more". They promise that the title will feature "the better visual presentation and artificial intelligence, historical teams and a wide variety of experiences. "