Nacon, the popular peripheral brand gaming, He has launched Pro Compact, the first device in the new line of accessories "designed for Xbox". It is a peripheral compatible with Xbox Series X / S, Xbox One and Windows 10 PCs that also offers customization options that are usually only available on professional controllers. It can now be purchased in Spain for a recommended price of 49,90 euros.
It has compact and ergonomic design, in addition to materials designed for a high-performance grip. It is available in Two colors, black and white, both with 3 meter braided USB cable connection which ensures zero latency. You can see all its details in the presentation video that the company has published today and that is available under these lines.
Trigger and lever customization, 3D audio and more
As you can see in the video, the Nacon Pro Compact offers systems of customization of controls: we can play with the traditional configuration thanks to Standard Mode or we can customize it to our style with your Advanced mode that takes advantage of the Pro Compact application available in the Microsoft Store.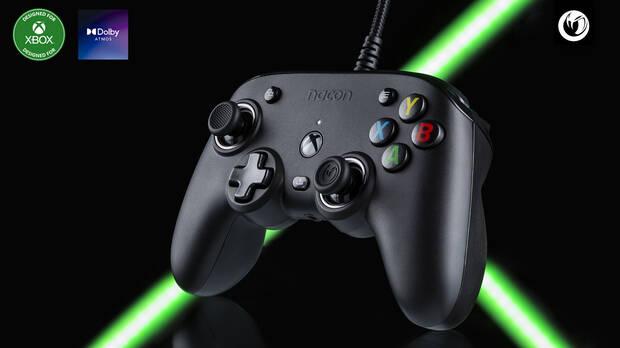 And what can we modify? The Pro Compact allows us to customize aspects such as sensitivity of the triggers and joysticks. It has button configuration and also brings all the official Xbox, that is, the Menu, Share, View and Xbox buttons. It also has a 3.5mm headphone jack for audio and char, free activation of Dolby Atmos for headphones, and is designed for audio 3D.