Two years after its release, the indie My Friend Pedro is going to receive a spin-off free for mobile from the hand of Deadtoast, its original creators, and Devolver Digital, responsible for the distribution of both the first game and this new project. My Friend Pedro: Ripe for Revenge is the name of this new installment, which coming to iOS and Android on August 5, although the previous registration is already open in both the App Store and Google Play.
The creators of this frenzied arcade in lateral perspective define it as "a brand new adventure for mobiles in which blood, bullets and bananas abound", something that is very clear in the example thriller from My Friend Pedro: Ripe for Revenge, available under these lines.
"They kidnapped his wife and children and left him for dead. But that is far from enough to separate a family of bananas. Help your friend Pedro! Revenge is a dish that is served cold and you can always garnish it by sprinkling bullet shavings to make it pretty, "says the official description of the game.
New graphics, controls and levels, but the same gross action
As you have seen, this title will follow the basic premises of the My Friend Pedro original: we will play through a series of levels full of enemies that we will have to massacre using creativity, looking for a way to make our bullets and blunt objects hit them while we jump, jump or roll in a brutal and bloody choreography.
Here we have implemented completely renewed graphics, adapted to the mobile format, and a division by phases that, according to Devolver Digital, will offer 37 different levels, each replayable to get the highest score. It has also been confirmed that there will be purchases in-game, although it has not been specified what they will consist of, and a modo Blood Rush.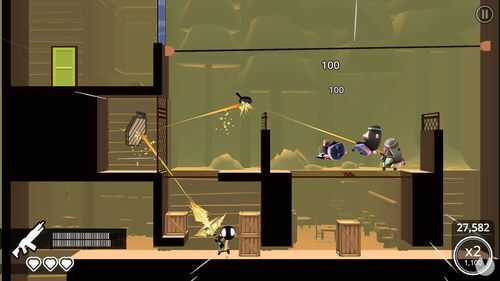 Systems have also been altered. control to adapt this game to the touch screen of iOS and Android devices, a way with which My Friend Pedro: Ripe for Revenge You can redeem the original game, whose main criticism lies in the convoluted controls. Still, as we said in our analysis, My Friend Pedro "it's a game so much fun and so satisfying when we learn to take advantage of its playable proposal ".
Below you can see one guys with the first images of My Friend Pedro: Ripe for Revenge.