Milestone has presented the first gameplay of MotoGP 21 where we can see some laps of the circuit with the rule of Long lap penalty. The motorcycle game will arrive on April 22 to PC, Nintendo Switch, PS5, PS4, Xbox Series X / S and Xbox One. On the new generation consoles the loading times are much faster and various graphic improvements are applied in lighting , dynamic 4K resolution and 60 frames per second, as well as taking advantage of the optical response and adaptive triggers of the PS5 DualSense.
The Career Manager mode offers a more difficult path than in previous installments, "but at the same time more personal," according to the editor. Players can start from the bottom, with a Junior Squire, and we will have to worry about new members of the team: the Personal Manager (helps the pilots to look for new contracts), the Chief Engineer (increases the Research Points) and the Data Analyst (has the objective that each area of ​​Development progress in a balanced way), the Escudera Director (look for sponsorships and riders) and the Technical Director (who manages the R&D department of junior motorcycles).
These hires will affect the administration and improvements of the motorcycles, from assigning staff members to different branches of development to invest R&D points resulting in improving engine power, the aerodynamics, the chassis and the electronic features such as the traction, the brake, the wheelie and the power map.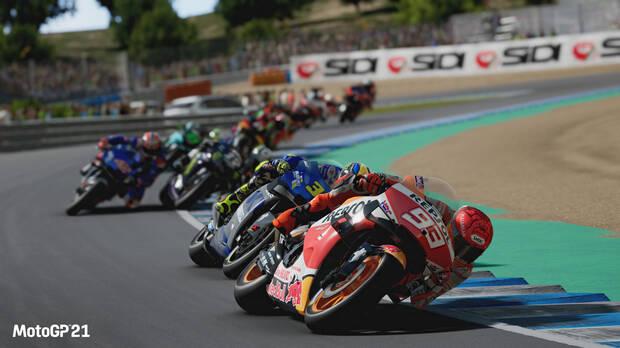 An improved simulation
MotoGP 21 it also makes improvements in control and simulation. Riders will need to keep an eye on the temperature of the brakes and the suspension system has been tweaked. If the rider falls out of the vehicle, he will not automatically appear on the track as has happened up to now, but instead he will have to go and look for the motorcycle as it happens in reality. The long lap penalty system has also been adjusted. Regarding online, the races have increased to up to 22 players, but with the improvement in the artificial intelligence system of machine learning ANNA they promise "that the offline experience is equal to that of a real race".